The 'rocket launcher' broadband masts upsetting residents across Greater Manchester
The firm are authorised to install masts without prior consultation as long as they are a maximum height of 15m (50ft).
Watch more of our videos on Shots!
and live on Freeview channel 276
Visit Shots! now
Complaints about telecomms firm IX Wireless building masts and poles have left councillors 'overwhelmed and powerless' in the face of growing public anger, a meeting has heard. All political parties at Bolton Council have said they 'deplore' the actions of the company who have over past months installed hundreds of mast and poles in Bolton, Bury and other parts of Greater Manchester, often with the minimum amount of notice allowed.
The firm are authorised to install masts without prior consultation as long as they are a maximum height of 15m due to a planning law known as 'permitted development'. Earlier this month hundreds attended a 'residents against IX Wireless' protest after the telecoms company installed a metal mast described as 'looking like a rocket launcher' on Lea Gate Close, Harwood, Bolton.
This week, residents in Rollesby Close, Brandlesholme, Bury held a sit in protest against IX Wireless, occupying the land the company were set to work on. The company claim their work is to 'build and maintain a new high-speed broadband network'.
They added that the placement of the poles is '100 per cent compliant', and that 'local councils are always aware of any work being undertaken'. At a meeting of Bolton Council last week councillors backed a motion introduced by Liberal Democrat leader Roger Hayes about the firm.
The motion, said: "IX Wireless has sought to reduce its costs and increase its profits by erecting hundreds of telegraph poles to carry overground fibre, and many large masts, claiming that they constitute 'permitted development'. These poles and masts are an undesirable addition to street clutter and in many cases cause considerable inconvenience to nearby householders and pedestrians who are visually impaired. Some are positioned against gable ends restricting residents' ability to maintain their property or erected in clusters near the same property.
"The company appears to have conducted minimal or no contacts with the local authority on the erection of the poles and masts. They have failed to answer many complaints made by residents."
The motion, which was backed by the council's controlling Conservative group, made reference to political donations the company has made to various Tory MPs in the region, including Bolton West and Atherton MP Chris Green.
It said: "When a group of residents recently met Chris Green MP about the problems, he claimed to have no knowledge of the company until they pointed out to him that he had recently received a political donation of £5,000 from IX Wireless. He has failed to answer any questions as to what his relationship is with the company or why he received and accepted the donation. It is noted that similar donations have been made to a number of other Conservative MPs in the north west of England."
Bolton Council will now prepare an urgent report on what powers the council has to control the activities of IX Wireless and ask Chris Green MP to clarify what relationship he has with IX Wireless and why he received and accepted a political donation from the company. Mr Green did not respond to requests for comment.
The meeting heard from Coun Andrea Taylor-Burke.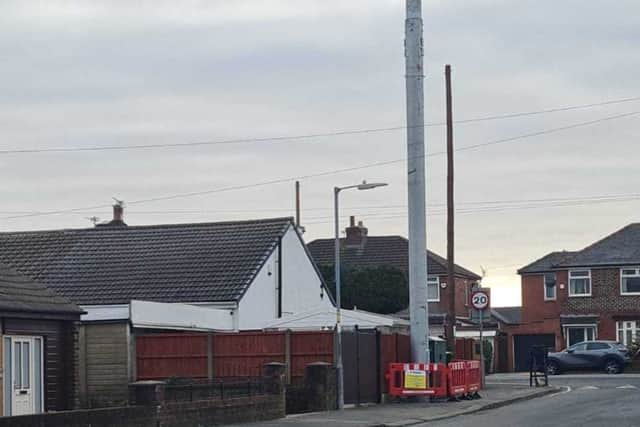 She said: "Can the leader explain what efforts are being made to resist IX Wireless masts, poles and associated infrastructure blighting the town?
"As elected representatives we have been overwhelmed and left powerless to represent the people of Bolton.
"What can we do to correct this?" Leader of the council, Martyn Cox, said: "Officers and elected members are aware of the disruption of the upset caused by IX Wireless.
"Unfortunately, the council's involvement as a local planning authority, and local highway authority is limited as telecoms apparatus such as masts, wooden poles, or cabinets do not require either planning permission or a highway licence.
"Despite repeated requests to IX Wireless, they have never submitted a forward progress and all the installations have been undertaken with a minimum notice possible. "Officers in the planning service have sought legal advice in respect to whether enforcement action can be taken and where planning law has been breached the service will seek to take appropriate enforcement action."
He added that Greater Manchester Combined Authority also plan to organise a meeting with IX to be attended by officers from a number of authorities who are reflecting similar concerns.
A spokesperson for IX Wireless said: "This new, innovative network delivers gigabit-capable broadband services at a fraction of the cost of other broadband providers.
"Its roll-out enables us to provide communities across the North-West with more choice and cheaper broadband. The broadband industry is well-regulated, and all of our structures undergo stringent tests and conform to industry and government standards.
"The placement of the poles is 100% compliant, and local councils are always aware of any work being undertaken.
"We've made repeated efforts to liaise with the Bolton council and continue to do so on a regular weekly basis.
"Residents with concerns over any part of the network installation can reach out to us directly or contact the council. We will endeavour to address all of these concerns whenever possible.
"IX Wireless continues to look at ways of improving our communication with residents and is always open to feedback and suggestions from the community. We understand that building and installing new broadband infrastructure is a sensitive matter to people living within local communities, and we acknowledge that there will be some minor disruptions.
"But as a fixed-wireless provider, we don't dig and cover. That means we build faster while keeping road closures and noise pollution to an absolute minimum. More importantly, we firmly believe that any short-term, minor disruptions will be massively outweighed by the long-term benefits of delivering faster and more affordable internet connections to people across the North West."
With regard to its political donation to Conservative MPs, the company said: "As a North-West company delivering broadband services to the local community, we want to see the interests of these same communities represented nationally.
"We want to ensure the region truly benefits from the Government's Levelling Up agenda, which aims to increase living standards across the region and provide everyone with an opportunity to reach their full potential.
"That's why we support the Northern Research Group (NRG), a group founded by a number of MPs to campaign for greater investment in the North. Our support of the NRG is a matter of public record.
"The funds we donate to the NRG help MPs campaign central government for more spending across the north, which would boost local infrastructure and create more economic opportunities. "The funds also support training programme's for new MPs, so they can better represent their constituents."