Jill Scott has added to the rumours of an I'm A Celeb feud after sharing a "family" snap with some of the ITV contestants missing.
The England Lionesses star, 35, from Sunderland, became Queen of the Jungle on Sunday night (27 November) after three weeks of roughing it in the Australian outback.
The Aston Villa midfielder shared a picture on her Instagram story showing herself, alongside Hollyoaks star Owen Warner, comedian Seann Walsh and television presenters Charlene White and Scarlett Douglas.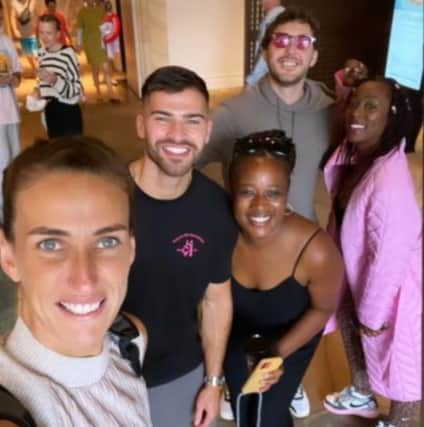 With a beaming smile on her face, the football star wrote: "The strangers that became friends that became family!"
This isn't the first social media post to spark rumours of a feud. Upon leaving the jungle, the contestants and their guests got dressed up and met for "a food and wine filled night" whilst all still in Australia.
Charlene posted a picture of the celebrities gathered around a table, and fans soon noticed who was missing.
The Queen of the Jungle herself was absent from the photo, as well as third-place Matt Hancock, Boy George, Sue Cleaver and Seann.
One eagle-eyed fan wrote: "Not "all" the camp mates are there!"
Whilst another added: "Some of the celebs missing!"
A third I'm A Celeb viewer wrote: "Where are the bigger stars? None of them are there.🤷‍♀️"
Almost 10,000 people liked the post, with Charlene using the caption to acknowledge that not everyone was pictured because "a few tapped out early".
Charlene wrote: "Last one's standing after a food and wine filled night with all the camp mates, family & friends. Brilliant final meal to officially mark the end of our crazy @imacelebrity experience.
"We're not all pictured here as a few tapped out early.. but we kept going til the restaurant chucked us out 😂It was a blast ❤️"