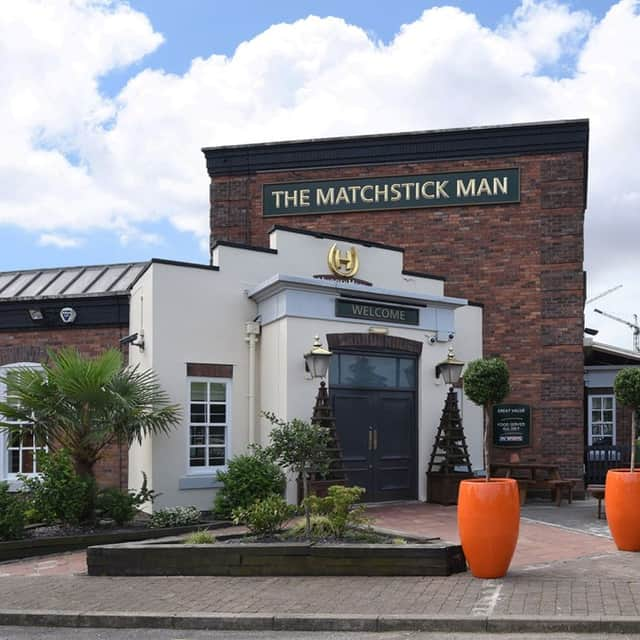 The Matchstick Man pub in Salford
Do you fancy bagging yourself a free pint in Manchester today? If so, all you need to do is be able to belt out a Christmas classic.
Pub chain Greene King is giving customers the chance to claim a free pint of Ice Breaker by singing their own version of 'Jingle Bells' to whoever is pulling your pint.
The 408 Greene King sites around the UK will be taking part in the initiative, which includes all sites in and around Manchester, for the duration of today.
Don't fancy singing alone? Not to worry, Greene King has said a group effort will be rewarded with a pint each.
Marketing director at Greene King Local Pubs, Andrew Gallagher, said: "Greene King Locals are more than just bricks and mortar – they're a home away from home that bring people together, so we couldn't think of a better way to kick off this year's festivities than a good old Christmas carol and a pint."
Here are some of the pubs in Greater Manchester taking part; for a full list and postcode checker, see Icebreaker's website here:
MATCHSTICK MAN, CAPITAL QUAY, SALFORD, M50 3WL
ROYAL OAK, 440 BARLOW MOOR ROAD, CHORLTON-CUM-HARDY, M21 0BQ
ROYAL SOVEREIGN 226 ECCLES OLD ROAD, SALFORD,M6 8AG
TREVOR ARMS, 135 BEECH ROAD, CHORLTON-CUM-HARDY, M21 9EQ
COPPICE WOOD FARM, 6 MERCURY WAY, URMSTON, M41 7PA
GEORGE & DRAGON HOTEL, 422 MANCHESTER ROAD, HEATON CHAPEL, SK4 5DH
YE OLDE COCK, 848 WILMSLOW ROAD, DIDSBURY, M20 2RN
DIDSBURY, 852 WILMSLOW ROAD, DIDSBURY, M20 2SG
KINGS RANSOM, BRITANNIA ROAD, SALE, M33 2AA
BARLOW CROFT, PARRS WOOD ENTERTAINMENT CENTRE, WILMSLOW ROAD, EAST DIDSBURY, M20 5PG
ROBIN HOOD, 180 MANCHESTER ROAD, CLIFTON, M27 6PE
WHITE HORSE, 384 WORSLEY ROAD, SWINTON, M27 0FH
MOORFIELD, 131 MARSLAND ROAD, SALE, M33 3NW
FARMERS ARMS, 26 LONGLEY LANE, NORTHENDEN, M22 4JR
CAROUSEL, 158 REDDISH ROAD, REDDISH, SK5 7HR