She regularly took part in tours that took her all over the world. On many occasions, these global tours brought her to Manchester.
Over the course of her career, she played in Manchester on 11 different occasions. The first of these was back in 1974 when she appeared as one half of Ike and Tina Turner at the Palace Theatre.
Her 11th and final show in Manchester came at what was then called the MEN Arena (the AO Arena today). She had four shows within a week as part of her 50th anniversary tour through March and April 2009.
The last ever show in Manchester was April 4 2009. We've taken a look at the songs she performed on this last ever Manchester gig according to setlist.fm.
Dates of each Tina Turner show in Manchester over the years
October 18 1974- Manchester Palace Theatre
February 28 1984- Manchester Apollo
March 21 1985- Manchester Apollo- Private Dancer Tour 
March 22 1985- Manchester Apollo- Private Dancer Tour
December 5 1996- NYNEX Arena Manchester- Wildest Dreams Tour
December 6 1996- NYNEX Arena Manchester- Wildest Dreams Tour
December 7 1996- NYNEX Arena Manchester- Wildest Dreams Tour
March 30 2009- MEN Arena Manchester- Tina! 50 Tour 
March 31 2009- MEN Arena Manchester- Tina! 50 Tour 
April 3 2009- MEN Arena Manchester- Tina! 50 Tour 
April 4 2009- MEN Arena Manchester- Tina! 50 Tour 
Tina Turner setlist from last show in Manchester in 2009
Steamy Windows (Tony Joe White cover)
Typical Male
River Deep, Mountain High (Ellie Greenwich cover)
What You Get Is What You See
Better Be Good to Me (Spider cover)
Won't Get Fooled Again (The Who cover)
The Acid Queen (The Who cover)
What's Love Got to Do With It (Graham Lyle cover)
Private Dancer
We Don't Need Another Hero (Thunderdome)
Help! (The Beatles cover)
Undercover Agent for the Blues (Tony Joe White cover)
Let's Stay Together (Al Green cover)
I Can't Stand the Rain (Ann Peebles cover)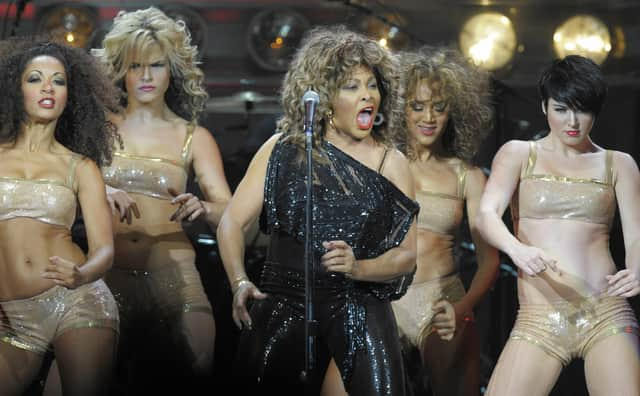 Rolling Stones medley
Jumpin' Jack Flash (The Rolling Stones cover)
It's Only Rock 'n' Roll (but I Like It) (The Rolling Stones cover)
GoldenEye
Addicted to Love (Robert Palmer cover)
The Best (Bonnie Tyler cover)
Proud Mary (Creedence Clearwater Revival cover)
Encore
Nutbush City Limits (Ike & Tina Turner song)
Be Tender with Me Baby