Narrowboat adventure on the Grand Union Canal
Taking to the water along a short and winding route in Northamptonshire sparks respect for the waterway and also all the people who have made their living here, writes Ruth Brindle.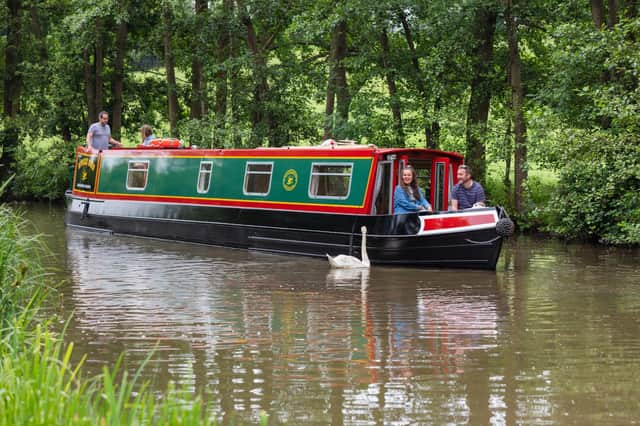 Our four-day trip started at Gayton Marina where ABC Boat Hire took us through our boating 'initiation'.
While stressing all the safety aspects, and there are many, our instructor Chris, nevertheless made it fun too.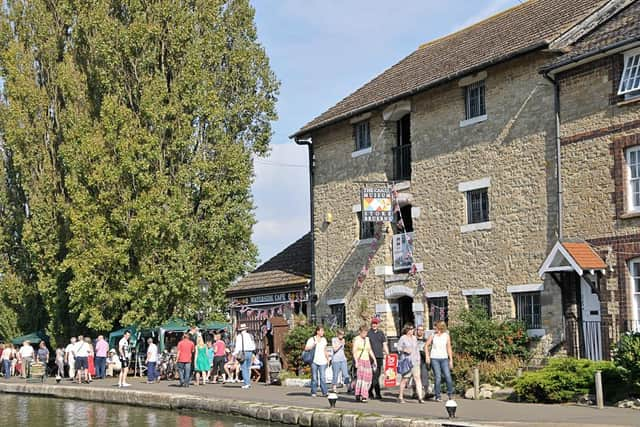 "It's a holiday," he cheerfully reminded us as we jumped to action in a practise mooring.
Ropes at a 45 degree angle from bank to boat to keep it steady, simple knots helped to secure our brightly-painted 47ft vessel, Snow Bunting, nicely.
Phew, first hurdle overcome.
Perhaps we can crack this boating lark with a bit of concentration.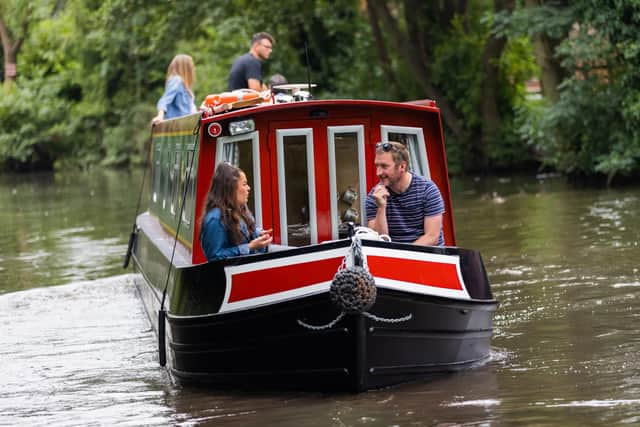 Remember to steer the OPPOSITE way to where you want to go.
As novices we'd decided to cruise west along the Grand Union Canal to Bugbrooke (no locks) where we were to turn the boat at the entrance to the marina and moor up next to the Old Wharf Inn.
The weather was not kind - wind and rain in our faces - so we very gingerly and sedately made our way along the centre of the canal, according to the rules, moving to the right when passing other vessels.
Numbers on bridges let you know where you are.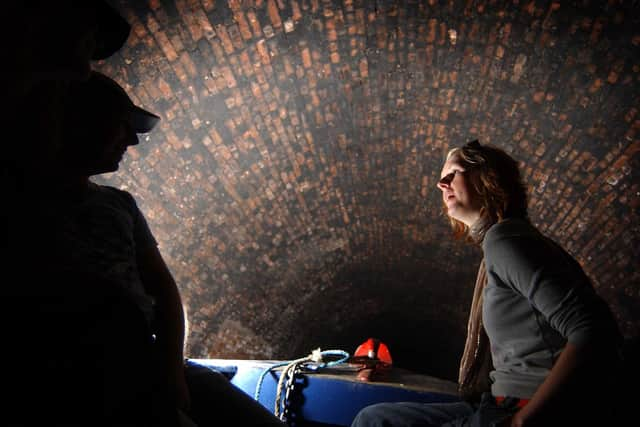 Slight panic whenever another boat comes the other way.
But everyone is so friendly, polite and accommodating. "Enjoying it?" they ask as they navigate by.
To say that we were going slowly was very evident by the fact that walkers along the bank were overtaking us.
No matter. Better to keep in control.
Turning the narrowboat was fairly smooth-going too.
Our first leg was completed safely.
Our first night was cosy under duvets (all supplied) with central heating warming up quickly in the morning.
The kitchen had an oven, hob, microwave and all the equipment we needed.
I was delighted to be greeted by a swan who swam up to the window when I first opened the curtains.
Then with ropes stowed we headed back towards Gayton Junction but carried on along the Grand Union Canal towards Stoke Bruerne for seven miles.
Birdsong along the route also made us appreciate the quiet. This took us through the 2,813 metre-long Blisworth Tunnel which proved to be quite a 'spooky' experience, but exciting.
It was dark as we were 143ft below ground but we put on all our lights, and donned our waterproofs (also supplied) as water regularly cascaded from above.
It was reassuring to see the pinprick of light at the end of the tunnel get bigger during our hour-long journey.
At least we didn't have to 'walk' the heavy vessel along the route as early boatmen had to do, laying flat on a wooden board with legs extending to the tunnel walls.
Then, glad to emerge, we again turned our boat around in the 'winding hole' at the tunnel's end and moored up next to the towpath, of course.
It's like doing a three-point turn, but with more points!
An evening meal at The Navigation restaurant was welcome.
Having decided not to traverse the seven-lock flight of locks at Stoke Bruerne, we stayed put and explored this charming village, which is a tourist hotspot in the summer.
The Canal Museum, with a wealth of artefacts and images, gives a fascinating insight into early life on the canal.
The museum narrowboat 'Sculptor' is moored up outside the museum.
There's also a woodland walk here with a sculpture trail and the Brick Pits Nature Reserve to explore.
Owned and operated by the Woodward family since 1877, The Boat Inn is also a great place to eat or have afternoon tea.
We started off early on the two-mile journey back through the tunnel and a stop at the village of Blisworth to visit the historic 15th century Royal Oak pub.
It is a charming place for a spot of lunch.
On heading back to Gayton Marina we were doing well with our manoeuvres until a gust of wind sent us off course.
Just when we were trying to impress instructor Chris!
It was the end of an adventure, but one we'll be sure to repeat.
ABC Boat Hire offers canal boat hire from 16 locations across England, Wales and Scotland, www.abcboathire.com, 0808 303 8715 (free UK calls).
2023 prices on a boat for up to four people start at £799 for a short break (three or four nights), £1,099 for a week.
The event takes place at Crick Marina, near Daventry in Northamptonshire, from May 27 to 29.
With more than 200 exhibitors, the show is organised by Waterways World, the Canal & River Trust and Crick Waterside and Marina.
Billed as 'Britain's biggest inland waterways festival', it is expected to attract more than 26,000 visitors.
There will be new boats to view as well as used boats.
Each year historic boats make the journey to be part of Crick Boat Show and this year the event is expecting a record number on display.
Among them will be boats built in the 1930s including Crick stalwart 'Sculptor'.
This is maintained by Friends of the Canal Museum who will be at the event to talk to people.
Visitors can enjoy free boat trips, free advice seminars on boat ownership and technical masterclasses.
With live music, children's activities, a real ale bar and a large variety of food and drink stalls, the event offers something for all the family.
The Canal & River Trust is the guardian of 2,000 miles of historic waterways across England and Wales.
It is among the largest charities in the UK, maintaining the nation's third largest collection of listed structures, as well as museums, archives, navigations and hundreds of important wildlife sites.
The charity champions the benefits that waterways offer and encourages more people to use and enjoy them.