Off Menu podcast: All the Manchester restaurants mentioned by celebrities, including Michelle Keegan and James Acaster
These Manchester restaurants mentioned on the Off Menu podcast with James Acaster and Ed Gamble are celebrity favourites.
Watch more of our videos on Shots! 
and live on Freeview channel 276
Visit Shots! now
We've all thought about what our death row meal would be at least once in our lives. If money was no object, if we could bend the laws of space and time, which dishes would we include on our dream menu?
These are the questions that comedians Ed Gamble and James Acaster have been asking celebrity guests every week on their hit podcast Off Menu. The concept is simple: a famous face picks their dream starter, main, side, dessert and drink, to be served at the imaginary dream restaurant, where Ed Gamble is the maitre'd and James Acaster is the waiter – and also a genie.
Over the years, guests have talked about meals and memories from restaurants in almost every coroner of the world, including Manchester.
If it's good enough for the celebrities, then it's good enough for us. Here are the Manchester restaurants mentioned on Off Menu.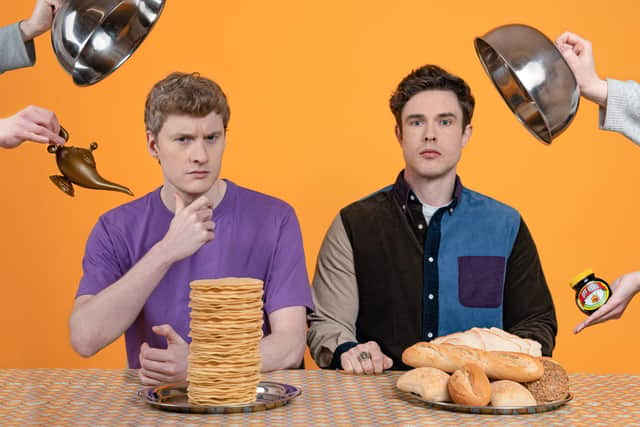 This vegan pizzeria in the Northern Quarter was suggested by drag queen, musician and actor Bimini Bon Boulash, who you may know from the second season of Drag Race UK. Aside from the Manchester location, Purezza also have spots in Bristol, Brighton and Camden, which is the franchise Bimini mentioned.
The stand-out dish for Bimini was the Parmigiana Party, which has a tomato base, vegan mozzarella, aubergine parmigiana and hemp parm. She also mentioned the dough balls, singing the praises of Purezza's vegan cheese, which is all made in house.
She said: Like I don't swear but people go hard, like go quite nasty on vegan cheeses whereas this stuff is like otherworldly. It's literally like all made inhouse,it's just so tasty. But we go to Purezza probably once a month, like when it was open like we were going that often, they knew us by name."
Hidden gem tapas restaurant Bar San Juan in Chorlton often features on best restaurant round-up lists in Manchester, and it is also a favourite of Stockport-born actress Michelle Keegan, who chose gambas pil pil as her dream starter.
She said: "There's actually a restaurant near me, you can't book. There's no phone. They don't answer the phone so it's first come, first serve and it's always, always full. It's a family-run Spanish restaurant and the food in there is insane. You know you can just tell it's not like batch cooked and things like that. It's just so fresh."
The Brassic star also mentioned San Giovanni's in Urmston, singling out their garlic bread pizza with cheese as the perfect accompaniment to her dream main, a pesto linguini from a restaurant on Genoa.
Describing the pizza, she said: "So it's like a pizza base, home made, really thin so the edges are just crisp and again, it has to be the right amount of garlic and the right amount of cheese, and they just get it so right in that restaurant."
Bem Brasil are known for their 'churrascaria,' or Brazilian BBQ. Visitors pay a set price and get unlimited meat, carved for them at the table, as well as unlimited sides. There are two in Manchester, in the Northern Quarter and Deansgate, and one in Liverpool.
The restaurant was mentioned by Manchester-based comedian Kiri Pritchard McLean, who commented on its unique traffic light system, in which you signal the waiters for more meat with green and red cards.
She said: "I love those. I love the simplicity of the little card that you flip round, I think it's a nice little novelty. Also, the Bem Brasil ones, in Manchester, the buffet in the middle, absolutely banging and doesn't need to be."
Kiri also mentioned the much-loved Northern Quarter cafe that recently closed down, Home Sweet Home. In particular, she mentioned the extravagant desserts, including cakes with Barbie dolls sticking out of them and cookies that looked like fry-ups.
During the episode with comedian Chloe Petts, host James Acaster made a special shout-out to the hugely popular Ezra & Gill. Long time listeners of the show will know that Acaster is a self-proclaimed "dessert boy" and will choose ice cream over most other foods. It was surprising, then, when he singled out the savoury pancakes, which were served with avocado, asparagus and a poached egg. This is not currently on the menu and Ezra & Gill, but their breakfast menu is still among the best in town.
Finally, another Manchester shout-out from James Acaster. If there's one thing that he hates on the podcast, it's when guests choose a cheese board for their dessert. But it seems he has one exception – the cheese course from The French by Adam Reid at The Midland hotel
During the episode with renowned chef Yotam Ottolenghi, he said: "Going from the savouries to the desserts is where it sits in the menu, and it's a drunken prune, slice of St James cheese on top of that, a walnut cracker and a scoop of honeycomb, and it says bite, and it's incredible."