Manchester's cocktail bar scene seems to be having a moment. Three city centre spots were recently ranked among the UK's finest, but there is a new bar on the scene, located in Chorlton, that could soon be giving them a run for their money.
Ideally situated on the quiet and leafy Beech Road, which is already home to a string of popular bars and restaurants, 97 is the latest venture from the team behind neighbouring restaurant The Lead Station and the Northern Quarter's Tariff & Dale cocktail bar. In particular, 97 is the brainchild of mixologist and general manager Ellie Craddick, a Chorlton native, who has devised an elegant yet inventive menu of 14 house classics and 11 new creations.
The menu is the first thing worth pointing out. Instead of a traditional booklet, guests are handed a deck of cards, Top Trumps style, with a card for each drink. Underneath the picture of the drink, you are given a list of ingredients – which, as Ellie explained to us, does not include brand names to help dismiss any preconceptions about price or quality – as well as ratings out of 100 for bitterness, booziness, dryness, sweetness and swigability.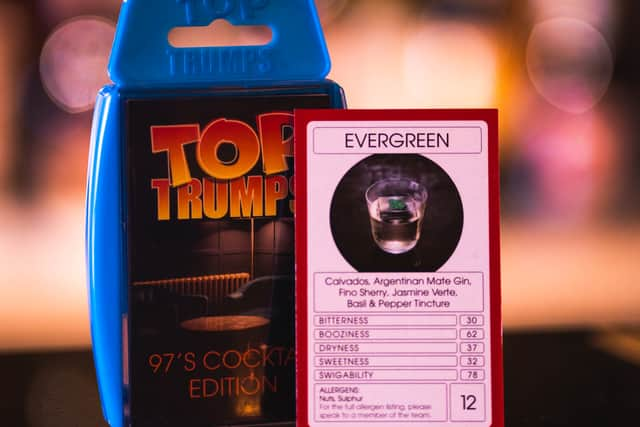 At first, this playful gimmick seemed a little out of place against the marble surfaces, soft lighting and mirrored walls of the dark and cosy bar, but within minutes my brother and I were leafing through the deck, passing the cards back and forth, and making piles of the drinks we wanted to try. The tactile menu format turned out to be not only fun but actually very useful.
Having studied the deck, we were not disappointed by our choices. Stand-outs for me were the Negroni Blanc, in which the herbal notes from the Chartreuse really sing out, and Triple Time off the signatures menu, which includes sunflower seed and fig Japanese whisky, almond grappa, lemongrass, pine, thyme and forest tincture.
My brother chose another signature, the Smoked Cali Grove which is already proving popular, according to Ellie. If you like smokey flavours, this is for you. It contains Islay single malt, bay leaf Cali blend, vetiver, peach, walnut, forest tincture, as well as chocolate and peach bitters. His favourite, however, was the Next Door, containing buttered spiced rum, overproof, vetiver, falernum, lime, banana water, which is made in house. This one had just the right amount of contrast between the sweet chocolate scent and more acidic taste.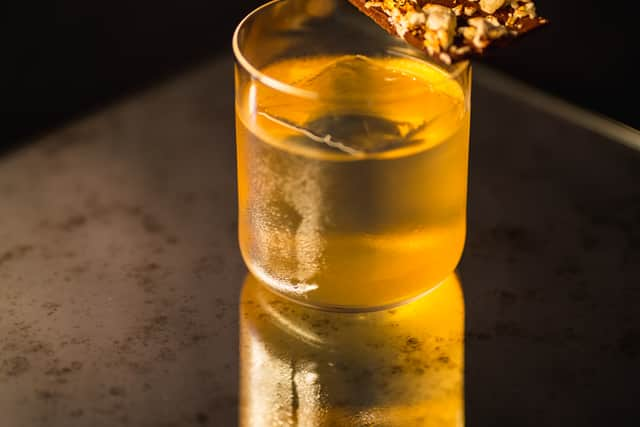 The layout of 97 has been designed so that the bar is the centre of attention. There are some tables, but the best seats in the house are directly opposite the bar, where there is one long bench separated by small, marble-topped tables. This way, everyone gets to see how these drinks are made and it is truly impressive to these professionals at work. Ellie and her staff are knowledgeable and attentive, and they really do care about the drinks they serve.
While there are great cocktail bars in the city centre to suit the tastes of all kinds of drinkers, 97 is the place to go if you want to enjoy the sophistication of a high-end cocktail bar, but in a relaxed and intimate setting, without the hustle and bustle of Manchester. I hope the judges at Top 50 Cocktail Bars are taking note.
97 opens on Friday 10 March and will be open weekly from Wednesday to Sunday. House classics are all £11 and their signature drinks are £12. More information can be found on their Instagram page.