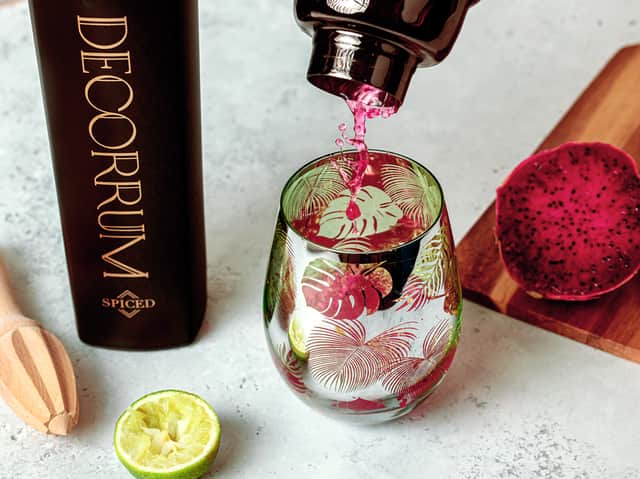 A dragonfruit spritz made with Decorrum rum
Spiced rum may bring to mind images of palm trees, beaches and pellucid blue waters, but one of the latest products to hit the shelves is created right here in Manchester.
Decorrum is the brainchild of Lucy Wolfenden, a Didsbury entrepreneur combining her dream of starting up her own business with her favourite drink.
Lucy Wolfenden, who founded rum business Decorrum
She is hoping to find a niche for her product in the market and get it served at venues around the city, with its 1920s theme, picture-worthy giving it a new twist.
Lucy has also found herself as something of a trailblazer, being one of comparatively few female producers working in the industry.
An idea a couple of years in the making
Decorrum was registered as a company last September, with the first bottles being made available for sale in May.
Lucy, 27, spent a couple of years researching and exploring ideas for her own business before finally settling on how Decorrum would work.
She initially studied contemporary performance at Winchester University before getting into a variety of recruitment and marketing jobs.
When lockdown came and two final stage interviews with agencies were scrapped, she made a huge shift and trained with the NHS to take blood as a phlebotomist.
While all this was going on, though, she was working on and then launching Decorrum.
Lucy said: "I always knew I wanted to do my own thing and wanted to do it in a fun and exciting industry.
Lucy Wolfenden, founder of Decorrum
"I started with a notepad and pen doing mind maps and research and then put it all into a big business plan and followed it through.
"It was a lot of long evenings and weekends.
"I had been thinking of the idea for at least two years prior to starting, going through all sorts of ideas."
A drinks creation process taking in both sides of the Atlantic Ocean
Making a bottle of Decorrum starts out at the Diamond Distillery in Guyana in the Caribbean, which is renowned for the quality of its rum.
The liquid then goes to Carrington where Decorrum's blend of spices and other ingredients are added to flavour and colour it.
The product is then put into bottles imported from France which have been spray-painted in Birmingham.
Lucy said: "Rum is made from sugar cane, which only grows in hot climates.
"Diamond is the most popular distillery and well known for having the best rum. I've not been to Guyana on a business trip yet but it's definitely on the cards!
"Understanding the whole process and getting it to work took a lot of time, but once I got it it has been quite smooth sailing."
Bringing 1920s style and elegance to the rum world
Some of the most popular spiced rums on the shelves tend to have a nautical, pirate-themed branding to them.
Lucy was adamant this was not the image she wanted for Decorrum, taking her cues instead from brands like Grey Goose vodka and her love of the stylish and sophisticated 1920s celebrated in books like The Great Gatsby.
She said: "It sometimes feels like to drink spiced rum you have to be a pirate! It's all very sailor and pirate-themed with short, barrel-type bottles.
"I wanted something a bit more premium and sophisticated, something you would want to take a picture with.
A Decorrum bottle in front of the Printworks in Manchester
"I love the 1920s feel and that whole Great Gatsby idea of having a party.
"I also wanted a bottle that would stand out on the shelf."
A drink that reflects the place it comes from
Decorrum is also closely tied into Manchester and the city's identity.
Lucy decided she wanted to include honey in the product due to the worker bee being the symbol of Manchester.
And she managed to source the sweet ingredient from an iconic local landmark.
She said: "There is a bee sanctuary on top of the Printworks building and it is the honey from those bees in the rum.
"I went to see the sanctuary and it was really cool. It feels like I'm not making a product just for myself, it's for Manchester, it's giving back to the community and it's helping the ecosystem too.
"I really wanted to incorporate Manchester into the product because I just love it and I love the community."
In addition, every time you buy a bottle of Decorrum the company adopts a bee and money from each purchase also goes to Forever Manchester, which funds community activities across the city-region.
Getting Decorrum's name known in the city and beyond
One of the biggest challenges Lucy has faced is getting the rum out to the public, especially as she came up with it during the Covid-19 pandemic when the hospitality sector was shut.
She managed to set up a network of online suppliers and says that hard work is now starting to pay off as there is already some brand recognition when she takes her display briefcase around Manchester's reopening bars and clubs.
She says her ambition is to see Decorrum being served in venues across her home city.
Lucy said: "I want all the rooftop bars and all the nightclubs to be serving Decorrum, along with the swanky bars and high-end restaurants. I want it to be the bottle brought out in bars with the sparklers on either side."
Currently Lucy is spending weekends at events such as makers' markets around Manchester to promote the rum and has secured a place at the Great British Food Festival in Edinburgh.
A dragonfruit spritz made with Decorrum rum
The business is also doing a takeover event on a boat in Manchester in October, with a Great Gatsby theme.
After that attention turns to creating miniature bottles of rum to create gift boxes and other similar present ideas in the run-up to Christmas.
Being a woman in what largely remains a man's world
As in much of the drinks industry, there are not a huge number of female entrepreneurs involved in rum.
Lucy hailed the example of female-owned company Diablesse and a mixers company called Double Dutch which makes ginger beers, tonics and other similar drinks.
As well as supporting other female producers Decorrum is keen to link up with fellow artisan and independent concerns for ideas such as the gift boxes.
Thankfully Lucy said she has not experienced overt sexism or problems being a woman at the helm of a rum business.
She said: "I haven't come across anything bad as a woman in the industry. I've had a lot of support.
"Sometimes I think it has been a bit of an advantage for me. People have been keen to talk to me and it makes it more interesting."