Manchester Food and Drink Festival Awards 2023: Full list of nominees including restaurants and coffee shops
The full list has over 110 nominees across various categories
Watch more of our videos on Shots! 
and live on Freeview channel 276
Visit Shots! now
The full list of nominees for the 2023 Manchester Food and Drink awards have been released. Over 110 businesses, professionals and regions have been nominated across 17 categories. 
The shortlist is a showcase of Manchester's thriving food and drink scene, and represents the wide range of choices people in the city have. Voting is open and you can have your say by visiting the food and drink festivals website. 
The Manchester Food and Drink Festival judging panel has compiled the shortlist. Voting closes on November 20 and the awards will be presented ina  ceremony at New Century on Monday January 29 2024. The full list of nominees are below.
Plant based offering of the year
Bundobust St James Building, 61-69 Oxford Street, Manchester M1 6EQ
Lily's Indian Vegetarian Cuisine 85 Oldham Road, Ashton-under-Lyne OL6 7DF
Bahn Ví New Century Kitchen, 34, Hanover Street, Manchester M4 4AH
The Walled Gardens Alness Road, Whalley Range, Manchester M16 8HW
Maray 14 Brazennose Street, Manchester M2 6LW
Speak in Code 7 Jackson's Row, Manchester M2 5ND
Flawd Wine 9 Keepers Quay, Manchester M4 6GL
The Mekong Cat 47 Lower Hillgate, Stockport SK1 1JQ
Takeaway of the Year
Fat Pat's 88 Portland Street, Manchester M1 4GX
Ad Maoira 34 Copperas Street, Manchester M4 1BJ
Unagi Street Food & Sushi 10 Park Place, Cheetham Hill, Manchester M4 4EY
Ciaooo Garlic Bread 93-95 Shudehill, Manchester M4 4AN
Wright's Fish and Chips 86 Cross Street, Manchester M2 4LA
Maida Grill House 38 Liverpool Street, Salford M5 4LT
Al Madina 76 Wilmslow Road, Manchester M14 5AL
Burgerism 18 West Ashton Street, Salford M50 2XS
Independent drink producer of the year
Sureshot Brewing 4 Sheffield Street, Manchester M1 2ND
Stockport Gin 19B St Petersgate, Stockport SK1 1EB
Cloudwater Brew Co 7-8 Piccadilly Trading Estate, Manchester M1 2NP
Tarsier Spirit Unit A5 Bankfield Trading Estate, Coronation Street, Stockport SK5 7SE
Pod Pea Vodka Irlam, Manchester
Manchester Union Brewery 96D North Western Street, Manchester M12 6JL
Squawk Brewing Co Tonge Street, Manchester M12 6LY
Track Unit 18, Piccadilly Trading Estate, Manchester M1 2NP
Independent food producer of the year 
Pollen Cotton Field Wharf, 8 New Union Street, Manchester M4 6FQ
Great North Pie Co Kampus, Aytoun Street, Manchester M1 3GL
La Chouquette 812A Wilmslow Road, Manchester M20 6UH
Gooey Ducie Street Warehouse, Manchester M1 2TP
Yellowhammer 15 Lower Hillgate, Stockport SK1 1JQ
The Manchester Smoke House 123 Waterloo Road, Cheetham, Manchester M8 8BT
The Flat Baker Unit 2, 23 Radium Street, Ancoats, Manchester M4 6AY
Companio Bakery Unit 6 Flint Glass Wharf, 35 Radium Street, Ancoats, Manchester M4 6AD
Foodie Neighbourhood of the Year
Levenshulme
Stockport
Altrincham
Urmston
Prestwich
Monton
Sale
Stretford
Coffee Shop of the Year 
Grapefruit Coffee 2 School Road, Sale M33 7XY
Cafe Sanjuan 27 St Petersgate, Manchester SK1 1EB
Another Heart to Feed 10 Hilton Street, Manchester M1 1JF
Idle Hands Coffee 35 Dale Street, Manchester M1 2HF
Bold Street Coffee 53 Cross Street, Manchester M2 4JN
Smoak 105 Manchester Road, Chorlton-cum-Hardy, Manchester M21 9GA
Ancoats Coffee Co 9 Royal Mills, 17 Redhill Street, Manchester M4 5BA
Siop Shop 53 Tib Street, Manchester M4 1LS
Food Trader of the Year
Baratxuri Exhibition, St George's House, 56 Peter Street, Manchester M2 3NQ
Chaat Cart Society, 100 Barbirolli Square, Manchester M2 3BD
Triple B 24 Bury New Road, Prestwich, Manchester M25 0LD
Tawny Stores Yellowhammer, 15 Lower Hillgate, Stockport SK1 1JQ
Little Sri Lanken Reddish, Stockport
Pico's Taco's Mackie Mayor, 1 Eagle Street, Manchester M4 5BU
Oh Mei Dumplings
Fat Pat's 88 Portland Street, Manchester M1 4GX
Affordable Eats Venue of the Year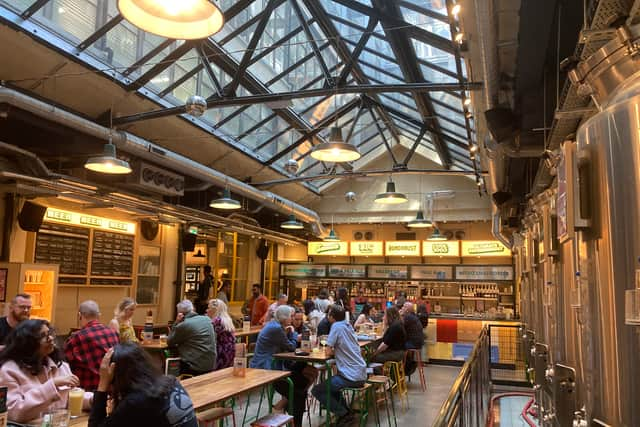 Nila's Burmese Kitchen 386 Third Avenue, Trafford Park, Stretford, Manchester M17 1JE
Great North Pie Co Kampus, Aytoun Street, Manchester M1 3GL
Cafe Sanjuan 27 St Petersgate, Manchester SK1 1EB
Noodle Alley Basement Level, 56A Faulkner Street, Manchester M1 4FH
Tokyo Ramen 55 Church Street, Manchester M4 1PD
Lily's Deli Unit 2C, Henry Street, Ancoats, Manchester M4 5BA
House of Habesha Central Bay, Unit 32, Quayside, Media City, Salford Quays M50 3AG
Ornella's Kitchen 10 Manchester Road, Denton, Manchester M34 3LE
Food and Drink Retailer of the Year
Ad Hoc Wines 28 Edge Street, Manchester M4 1HN
Out of the Blue Fishmongers 484 Wilbraham Road, Chorlton-cum-Hardy, Manchester M21 9AS
Littlewoods Butcher 5 School Lane, Heaton Chapel, Stockport SK4 5DE
Wandering Palate 191 Monton Road, Eccles, Manchester M30 9PN
New Market Dairy 1 Central Way, Altrincham WA14 1SB
Petit Paris Deli 10 King Street, Manchester M2 6AG
Cork of the North 104 Heaton Moor Road, Stockport SK4 4NZ
La Chouquette 812A Wilmslow Road, Manchester M20 6UH
Pop Up of Project of the Year 
Our Place 
Platt Fields Market Garden Platt Fields Park, Platt Fields Market Garden, Fallowfield, Manchester M14 6LT
Tawny Stores Yellowhammer, 15 Lower Hillgate, Stockport SK1 1JQ
SAMPA Blossom Street Social, 51 Blossom Street, Manchester M4 6AJ
Little Sri Lankan Reddish, Stockport
Suppher
Fare Share Units E1-8, New Smithfield Market, Whitworth Street East, Openshaw, Manchester M11 2WJ
Micky's Ply, 26 Lever Street, Manchester M1 1D
Pub or Beer Bar of the Year
The Marble Arch 73 Rochdale Road, Manchester M4 4HY
Track Brewery Taproom Unit 18, Piccadilly Trading Estate, Manchester M1 2NP
The City Arms 46-48 Kennedy Street, Manchester M2 4BQ
Runaway Brewery Taproom 9-11 Astley Street, Stockport SK4 1AW
Fox & Pine 18 Greaves Street, Oldham OL1 1AD
Reddish Ale 14 Broadstone Road, Reddish, Stockport SK5 7AE
Station Hop 815 Stockport Road, Levenshulme, Manchester M19 3BS
Heaton Hops 7 School Lane, Stockport SK4 5DE
Bar of the Year 
The Jane Eyre One Cutting Room Square, 14 Hood Street, Manchester M4 6WX
Linker 64-72 Spring Gardens, Manchester M2 2BQ
Red Light 4-2 Little David Street, Manchester M1 3GL
Sterling Bar 4 Norfolk Street, Manchester M2 1DW
Hawksmoor 184 - 186 Deansgate, Manchester M3 3WD
Schofield's Bar 3 Little Quay Street Sunlight House, Manchester M3 3JZ
10 Tib Lane 10 Tib Lane, Manchester M2 4JB
Flawd Wine 9 Keepers Quay, Manchester M4 6GL
Neighbourhood Venue of the Year 
Restaurant Örme 218 Church Road, Urmston, Manchester M41 9DX
Stretford Canteen 118 Chester Road, Stretford, Manchester M32 9BH
OSMA 132 Bury New Road, Prestwich M25 0AA
Ornella's Kitchen 10 Manchester Road, Denton, Manchester M34 3LE
The Oystercatcher 123 Manchester Road, Chorlton-cum-Hardy, Manchester M21 9PG
Yellowhammer 15 Lower Hillgate, Stockport SK1 1JQ
Fold Bistro & Bottle Shop 7 Town Street, Marple Bridge, Stockport SK6 5AA
The Jane Eyre 60 Beech Road, Chorlton-cum-Hardy, Manchester M21 9EG
Great Service Award 
Hawksmoor 184 - 186 Deansgate, Manchester M3 3WD
Higher Ground Faulkner House, New York Street, Manchester M1 4DY
Schofield's Bar 3 Little Quay Street Sunlight House, Manchester M3 3JZ
Where The Light Gets In 7 Rostron Brow, Stockport SK1 1JY
Climat 8th Floor, Blackfriars House, Manchester M3 2JA
Wood Manchester Jack Rosenthal Street, First Street, Manchester M15 4RA
Sterling Bar 4 Norfolk Street, Manchester M2 1DW
Tast Catala 20-22 King Street, Manchester M2 6AG
Newcomer of the Year 
Climat 8th Floor, Blackfriars House, Manchester M3 2JA
Higher Ground Faulkner House, New York Street, Manchester M1 4DY
Restaurant Örme 218 Church Road, Urmston, Manchester M41 9DX
Fold Bistro & Bottle Shop 7 Town Street, Marple Bridge, Stockport SK6 5AA
The Jane Eyre 60 Beech Road, Chorlton-cum-Hardy, Manchester M21 9EG
Madre Minshull House, 47 Chorlton Street, Manchester M1 3FY
New Century Kitchen 34, Hanover Street, Manchester M4 4AH
Stretford Canteen 118 Chester Road, Stretford, Manchester M32 9BH
Chef of the Year 
Joseph Otway (Higher Ground)
Danielle Heron (OSMA)
Luke Richardson (Climat)
Julian Pizer (Another Hand)
Shaun Moffat (The Edinburgh Castle Pub)
Patrick Withington (Erst)
Seri Nam (Flawd Wine)
Mike Shaw (MUSU)
Restaurant of the Year 
Higher Ground Faulkner House, New York Street, Manchester M1 4DY
Climat 8th Floor, Blackfriars House, Manchester M3 2JA
Another Hand Unit F, 253 Deansgate, Manchester M3 4EN
10 Tib Lane 10 Tib Lane, Manchester M2 4JB
OSMA 132 Bury New Road, Pretwich M25 0AA
Erst 9 Murray Street, Ancoats, Manchester M4 6HS
The Spärrows 16 Red Bank, Cheetham Hill, Manchester M4 4HF
Mana 42 Blossom Street, Ancoats, Manchester M4 6BF