Manchester Airport advice to passengers on what not to forget ahead of summer holidays
Many people will be using Manchester Airport this summer- and the airport have provided a list of things which you simply can't arrive without
Watch more of our videos on Shots! 
and live on Freeview channel 276
Visit Shots! now
The summer holidays are just around the corner, and millions of people across the country will be jetting off to sunny climates. Manchester Airport will be very busy, with around 1.5 million passengers predicted to use the airport between June and August. 
Andrea Renshaw, a Customer Experience Ambassador at Manchester Airport, and her team patrol the terminal, directing passengers and answering their queries. Andrea has shared her experiences of some of the most commonly-forgotten items, and explains some of the issues you may face if you forget them, as well as providing her top tips for guarding against any holiday hiccups.
Your passport
"It may sound obvious but when you're scribbling down a list of the things you need to pack, your passport should be right at the top of that list, as you won't be going very far without it!
"We do see passengers every day who, unfortunately, have misplaced or forgotten to pack their passports and in many cases it puts their trip on hold by a day or two – and costs them a lot of money – or they miss out on their holiday altogether.
"It's also worth double-checking that your passport still has enough validity left when you travel, or you may run into problems. Most European countries require your passport to be valid until the end of your stay plus an additional three months, and to be less than 10 years old on the day you enter, while Turkey requires 150 days of validity and some other destinations we fly to require 6 months' validity from the date of your arrival. Make sure you check the rules for the country you're flying to."
Phone charger
"Having to replace your phone charger while travelling is a minor annoyance, but what's much more inconvenient is not realising you've forgotten it until your phone has run out of charge. We rely on our phones for so much nowadays, from offline maps at our destination to checking in for our flights home and downloading our boarding passes.
"Make sure your phone charger is packed and keep your battery topped up – you can take a portable power bank as a back-up if you'll be on the road a lot."
Travel Adaptor
"You'll be able to get your hands on a travel adaptor at the airport if you forget to pack yours but you may struggle to find one if you don't realise it's missing until you've reached your destination – especially if you're going off the beaten tourist track.
"Do your research on what type of power sockets are in use in the country you're visiting and make sure your adaptor is compatible. A handful of countries, like Cyprus, Malta and Singapore, actually use the same type of plugs as we do – so no adaptor is necessary!"
Miniature toiletries/small containers
"Airports across the UK are gradually implementing new high-tech scanners that will make the 100ml liquid rule a thing of the past, but for now, it still stands – so do make sure any liquids, gels and pastes in your hand luggage comply and are presented in a resealable plastic bag. If you have any particular toiletries you want to take with you in your hand luggage, remember to pack them in the right quantities. You can take bigger quantities of liquids, gels and pastes in hold luggage, although they can add to the weight.
"One thing that's worth remembering is that you can buy 100ml containers and transfer toiletries into them so you don't need to buy miniature versions of your favourite brands or go without. This includes miniature perfume and aftershave atomisers.
"This applies to suncream too. It's a good idea to bring some of the right factor with you if you're going somewhere sunny but if you don't have hold luggage you'll need to make sure you don't bring too much."
First aid kit and medications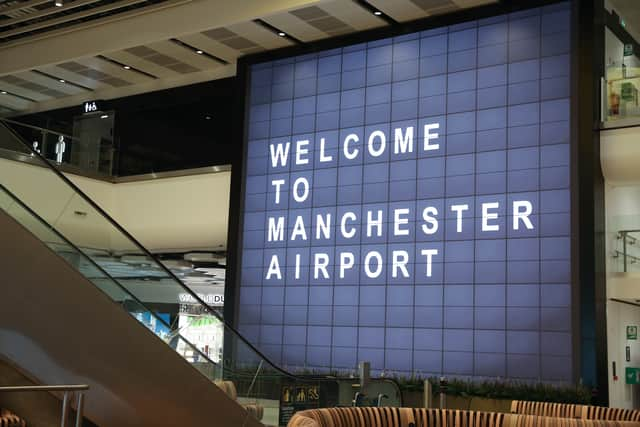 "A first aid kit is always worth packing and if you're prescribed medications, I'd always suggest packing them in your hand luggage rather than your hold luggage, for peace of mind.
"Prescribed liquid medications can be carried in your hand luggage, even if they're over 100ml – but you must also have a copy of the prescription from your GP, so remember to bring that with you.
"If you're travelling with a baby, you can bring formula milk, cow's milk, soya milk, sterilised water, baby food and cooling gel packs. Breast milk can be brought in hand luggage in containers of up to 2000ml, even if you're travelling without your baby."
Beach accessories
"For most of us, a summer holiday means sun, sea and sand, so while you can always buy another pair of swim shorts, a bikini, a beach towel or a bucket and spade, it's an expense and an annoyance you could do without!"
Something to keep you entertained on the flight
"If you're on a short-haul flight there may not be any in-flight entertainment, so it's worth taking something to keep you occupied, particularly if you are travelling with young kids. That might be downloading TV shows, music or podcasts, so you can enjoy them offline – or if you're a bit more old-fashioned you might prefer to pack a good book or puzzle magazine."