Lyme is a part of Greater Manchester which can make for a great place to visit, no matter what your age is. The 16th century house is just one of the features of this National Trust operated site, with plenty of other points of interest to keep you occupied.
The Legh family built the house and, over the centuries, it was built upon. The house has been updated and refreshed over the years, and one such area is the library which has been maintained in all of its Victorian glory.
An example of the mystery surrounding the house can be found in the library. A painting of the Black Prince hides a strange gap in the wall. The reasoning behind this will be found if you head up to the Drawing Room.
The squint allowed members of the Legh family to spy on visitors coming in through their front door through a secret fold-out panel in the wall. This is one of just many quirky features around the old house.
The Garden at Lyme
Surrounding the house is a stunning garden which offers plenty of amazing scenery no matter what time of year it is. A fun fact is that because Lyme is the second highest garden of all National Trust sites, flowers tend to bloom later in the year than other gardens.
The daffodils will be the first to flower followed by hyacinths and then the tulips. This will make for a colourful scene no matter when you visit during the season.
The Estate
Lyme has 1,400 acres of land surrounding it, giving a huge space for you to walk around and explore. Buildings dating back hundreds of years cover the landscape, with The Cage being one of particular interest.
Originally built in the 1500s, the building served as a hunting lodge or a watch tower- however its name has been suggested came from its potential use as a prison to hold poachers awaiting trial.
Admission prices to Lyme
Entry to the house at Lyme costs £13 for adults and £6.50 for children. These prices will give you entry into the house, park and gardens. A family ticket which includes entry for up to three children is £32.50.
Entry for just the park and gardens is £6 for adults and £3 for children. The family ticket for this entry is £15. For further information on tickets, visit the National Trust website.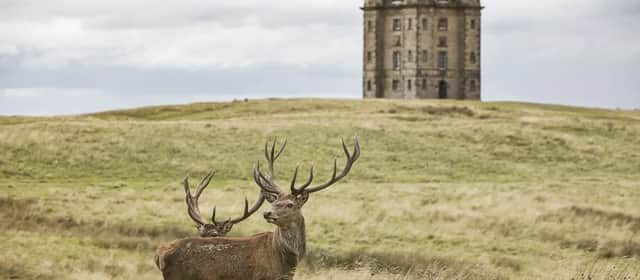 Opening hours for Lyme
Opening hours for different parts of the site vary throughout the year. For example, the house itself will be closed on Bank Holidays.
The car parks are open from 8.30am and depending on what you want to visit, it's important to plan ahead to make sure you avoid disappointment. For full opening times of Lyme, visit the National Trust website.