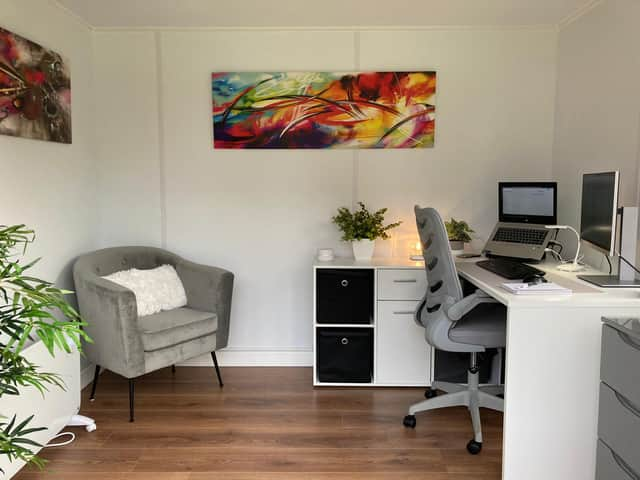 The popularity of garden rooms or studios has increased considerably in recent years - and Manchester is no exception.
Whether it is people now working from home looking to get out of spare bedrooms or off kitchen tables or people who want a separate space to relax with their garden around them, firms specialising in garden buildings are finding themselves enjoying increasing demand.
Two firms shared their thoughts on why more people in Manchester want a garden room and some of the most interesting projects they have tackled.
From granny annexes to tattoo parlours: what are garden studios used for?
Chris Weir runs Spaceout Garden Rooms, which he set up about eight years ago having previously worked in internet security and also in property renovation.
While a lot of the upsurge in interest has come from people working from home during the Covid-19 pandemic, that is by no means the only reason people are picking up the phone.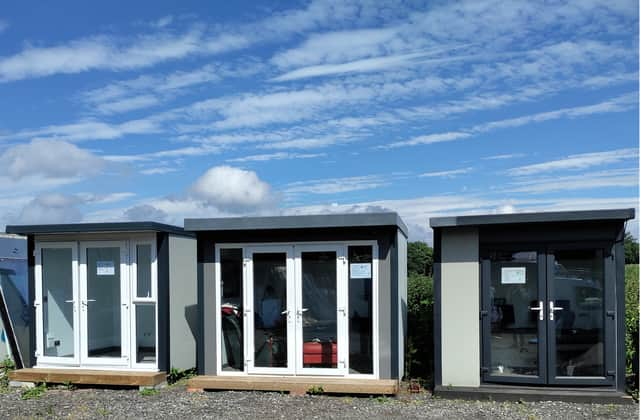 "We did an office for a university lecturer and one for a tattoo artist," Chris said.
"We've also built games studios and a full granny annexe for someone whose mother would have had to go into care. We built a large, self-contained apartment with its own kitchen and so on.
"We can pretty much build anything, within reason."
Chris has a multi-functional garden room himself which has a cinema screen and a games console.
"It's great playing Playstation on a 10-foot wide screen," he said.
A familiar face from TV screens getting involved
Trafford Garden Rooms has a well-known face from the small screen at the helm in the shape of Aidan Quinn, who went on Dragons' Den in 2011 with his idea for eco-pods.
He has been involved in environmentally-friendly and contemporary building for more than 20 years and his firm's rooms are constructed using insulated panels.
The company has already built studios for an array of different purposes.
Alex Cave from the firm said: "We've built a couple of dog grooming parlours and we had one that was a dance studio.
"A lot of them are workspaces but recently we've had more chill-out spaces.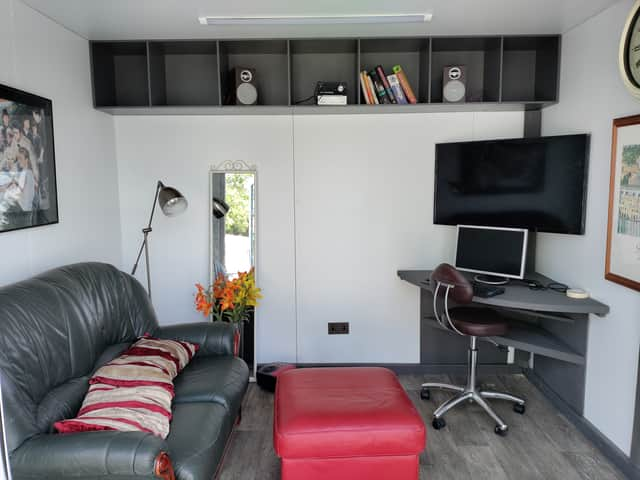 "People have been saying they want a room in their garden which is just somewhere out of their house.
"We're building one which is going to have a canopy over it and a hot tub under it."
Aidan said: "It's mainly offices for people working remotely. If you don't have the space it's hard to focus on your work. There are lots of distractions that take you away.
"It's easier if you can separate your living space from your working space, even if it's only a matter of 20 yards. The distance doesn't matter, what matters is that there's that separation there."
Where are garden rooms being built and how much do they cost?
There is the obvious consideration that you need a big enough garden to be able to have one of these studios, so high-rise flats and other dwellings in the city centre are out.
Chris says he has built a lot of garden rooms in areas such as Altrincham and Hale Barns and around where he lives in Prestwich.
Alex from Trafford Garden Rooms suggested that the belt around the edge of the city centre marks the areas where the firm generally works.
There are also cost considerations to be borne in mind, as having a garden studio will involve shelling out a four-figure sum and some rooms could set you back up to £10,000.