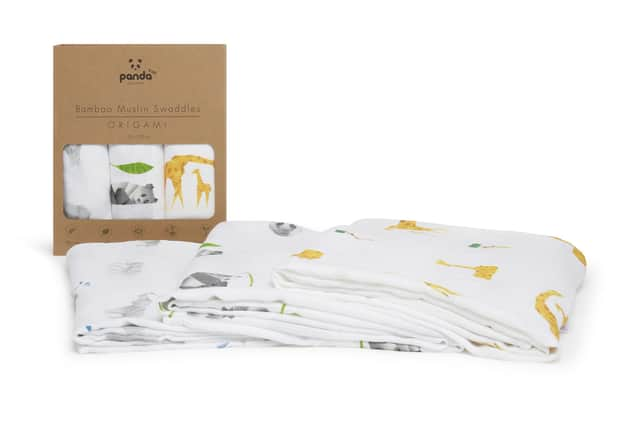 These natural, bamboo products are perfect for baby's skin – and kind on the planet too
Not only are Panda London's baby muslin cloths ideal for your little one, they are gentle on the planet too, being ethically sourced from sustainable bamboo.
The Panda London muslin range includes three packs of bamboo muslin squares, perfect for everything from mopping up spillages to swaddling your baby to sleep. Available in three adorable patterns: funky origami animals, London icons and Freckles, which features a range of sweet sleeping creatures.
These super soft muslin cloths come pre-washed and are made with a double layer of the softest bamboo, which is naturally hypoallergenic and thermo-regulating to help maintain the ideal body temperature.
Panda London has protected over 567,930 trees with their award-winning bamboo homeware in partnership with One Tribe
Muslins are small cloths that are incredibly handy for feeding your little one, to wipe little faces and to protect your shoulder during winding - as well as a million other spills or accidents.
They're also used for swaddling, the age-old practice of wrapping babies in cloths to restrict the movement of their limbs and make them feel secure.
As well as the 70cm x 70cm squares, Panda London's range includes 120cm x 120cm baby swaddle muslins that are perfect for wrapping your little one in the softest sustainable fabric. And because this super-breathable material is more absorbent than cotton, Panda London's long-lasting bamboo baby muslins are great for mopping up too - and they get softer with every wash.
This commitment to ensuring your baby stays safe, clean and comfortable (as bamboo is naturally hypoallergenic and can prevent irritation) is at the heart of the company's mission to be eco-friendly and provide the highest standard of products possible.
These natural, bamboo products are perfect for baby's skin – and kind on the planet too
Not only is all its bamboo sourced from approved forests but Panda London are working as hard as they can to reduce the environmental impact at every stage of their products' lifecycles, from forest to your front door. So far, they have protected more than 567,930 trees, covering more than 2,000 acres, removing almost 205,000 tonnes of CO₂ from the atmosphere – the equivalent of taking 123,654 cars off the road.
Bamboo is the world's fastest-growing plant – growing up to three feet a day – but only needs one-third as much water as cotton, plus it releases 30 per cent more oxygen than hardwood trees. Bamboo products can be washed at low temperatures and dry rapidly without the need for fabric softeners or ironing, making them a low-energy option too.
Their impressive values even extend to the communities in which Panda London operates: their babycare range is grown without pesticides and delivered without plastic in a recycled and recyclable box. Plus every thread, button and dye within Panda London's products are tested to ensure there's no trace of harmful substances – meaning extra peace of mind for parents.
Their bamboo baby products also include children's bamboo bedding, with duvet covers, fitted sheets and bamboo mattress protectors, to make snuggling down at bedtime a pleasure. Their bamboo duvets and pillows promise little ones a soft and soothing sleep thanks to the ultra-breathable fabric and supportive 3rd generation memory foam.
As well as bamboo baby muslins, Panda London's award-winning bamboo homeware range includes 100 per cent bamboo bedding, towels, mattress toppers, duvets and memory foam bamboo pillows, all combining the softest bamboo fabric that is naturally hypoallergenic and antibacterial with the coolest designs and cutting-edge tech for an eco-friendly range that doesn't cost the earth.
See the full bamboo homeware products in Panda London's range at mypandalife.com