We paid a visit to Manchester's trippy black and white cartoon restaurant to see if it lived up to the hype
Manchester has a new 2D Japanese restaurant in the heart of the city
Hands up everyone old enough to remember A-ha's iconic video for Take On Me? A sketch drawing of lead singer Morten Harket comes to life and transports viewers into a black and white cartoon like world while he goes after his girl.
Well, sadly there was no Morten Harket waiting for me when I entered the doorway of Manchester's new 2D restaurant Waku Waku on Chorlton Street but it was the closest thing I could get to those teenage memories.
I was impressed. Not only by the novel, surreal interior which will surely delight both adults and kids alike but by the fact it was a Tuesday afternoon and it had only recently stopped raining - the kind of sideways, driving rain that drenches you to the bone - but there was a still a queue of people starting on the street outside, snaking up the steps and into the doorway of the restaurant, all eagerly waiting to be seated.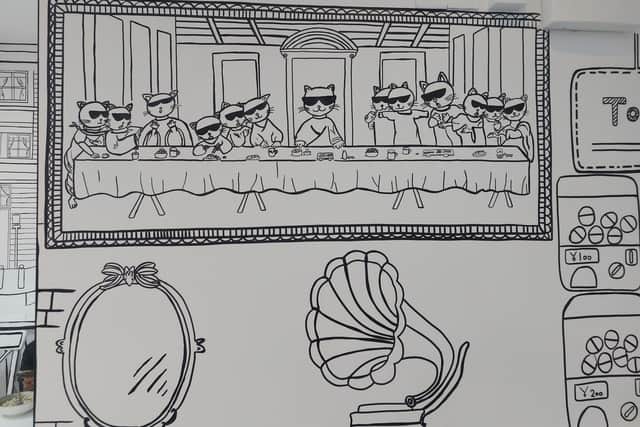 Exactly one week to the day of this Instagrammers dream restaurant opening to a huge buzz - enthusiasm for its novel interior was clearly showing no sign of waning.
I was there simply to see it with my own eyes and aesthetically it didn't disappoint. The shop's name, Waku Waku, comes from a Japanese word meaning pleasing or thrilling - and I could see it how it could be both.
The restaurant itself is brilliant white, but everything - from the counter, the walls, the tables and chairs - is edged in black marker pen, giving the illusion of being a two-dimensional cartoon. It's a bit trippy, but a lot of fun.
It's hard to believe that its creator Chris Lui is not a professional artist, in fact, he tells me, his background is in finance and before moving to the UK two years ago, he worked in a bank.
I struggle to comprehend Chris has never picked up a marker pen or studied art before creating the cartoon interior I am standing in, but he humbly shrugs "no."
It took him four months to draw everything- from the tongue-in-cheek drawings of famous artworks including The Last Supper with the apostles replaced by sunglass wearing cartoon cats, Girl with a Pearl Earring and The Scream (also cartoon cats) - to the fixtures and fittings.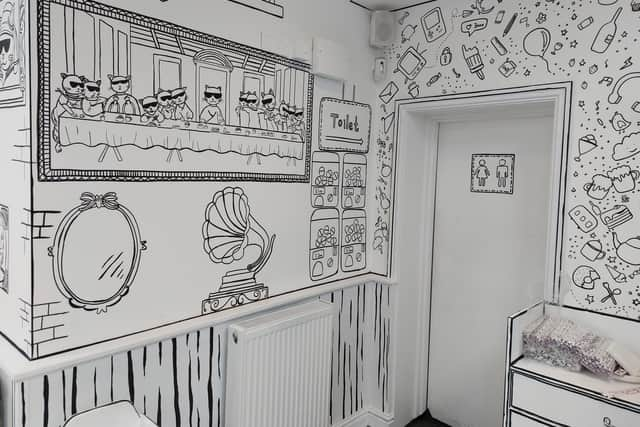 He credits his wife Chi Chi, with whom he has a four-year-old daughter cutely tucked away playing under the counter, for helping them turn the dream into a reality - or rather, turn their vision into life.
He says: "My wife thought people would like the 2D concept.
"We want to bring some new elements into the city. We want people to come here and feel like they have stepped into a cartoon world."
He says so far they have been delighted with the response. "People are queuing to get in every day," he tells me, "I'm very happy with the response to the restaurant."
Personally, I'm just disappointed I don't have the time to join the queue and try the food itself but what I see other people eating on the tables around me looks good - plates of colourful sushi, sashimi and noodles.
And Chris is determined the quality of the food won't get lost in the aesthetics, the restaurant may draw people in for it's novelty but he knows it's the food that will keep them coming back for more.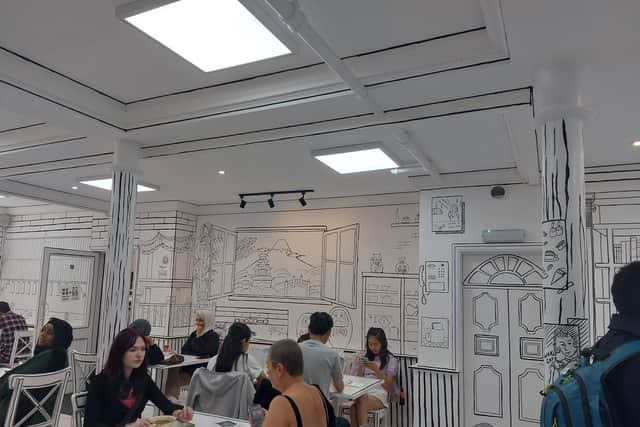 His menu includes speciality Japanese 'omurice' - a fluffy omelette cloaking fried rice as well as dumplings and tempura, sushi platters, rice bowls, udon soup noodles and sashimi - each looking like their own individual works of art.
I can't wait to go back and try.
Waku Waku is open now, Tuesday to Sunday, from midday until 10pm. You can find it at 54 Portland Street, Manchester, M1 4QU