Mazda CX-60 diesel review: price, specification and performance assessed as flagship SUV bucks the trend
We find out if bigger really is better as Mazda bucks the trend to launch a new super-sized diesel to sit alongside hybrid version of its flagship SUV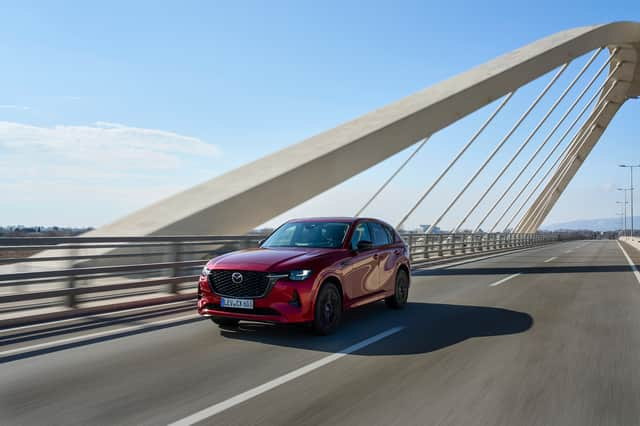 I know; this is likely to have you scratching your head and wondering exactly what Mazda is up to. It's just slotted a new 3.3-litre inline-six diesel engine into its premium CX-60 SUV.
Madness? Or does the Japanese carmaker, which has a reputation for often going against the grain, know something the rest of the world's car manufacturers don't?
While politicians and those of an environmental persuasion — well, certainly in Europe and the UK — seem hellbent on propelling every driver into the new world of electrification, be that full battery power or plug-in hybrid, buyers in Japan are remaining much more EV-sceptical.
Perhaps they're more astute in questioning exactly how millions of drivers in Japan will recharge their cars. Where the electricity will come from? And just how 'green', exactly, is the whole world life of an EV compared to a traditional electric combustion engine?
We could certainly debate all those points at significant length, but that's not for this article. But one point I'll throw in is Mazda has always looked at the global "problem over emissions" in a different way, preferring to focus on those whole life figures and taking a specific global decarbonisation strategy.
That basically means that while other car manufacturers are rolling out endless new all-electric cars, Mazda is continuing with piston engines. Hallelujah! And while several companies, such as Renault and Jeep, for example, have removed diesel entirely from their car line-ups, Mazda is not only continuing to fly the diesel flag, but has hoisted it even higher up the flagpole.
Why? Look at Mazda's product renewal programme. It's based around a new family of larger, longways-engined SUVs. The UK received the CX-60 in hybrid form last year. Later this year we, plus the rest of Europe, will get the seven-seat CX-80. Mazda also the CX-70 and CX-90 siblings in other global markets.
And the key point? All these markets still have an appetite for combustion engines. That means new, big petrol and diesel engines, in addition to hybrid and plug-in hybrid options.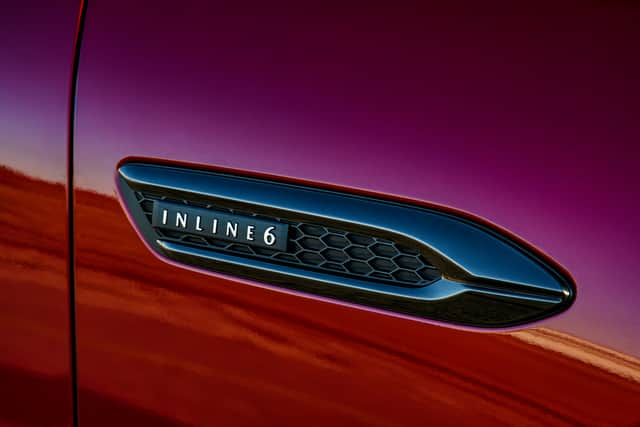 Forget Dieselgate and Volkswagen. As with everything, time moves on. And with time comes research, development and improvement. Mazda highlights that its new mildly-hybridised 3.3-litre straight-six turbo diesel engine, in a car of this size, is actually cleaner and more economical than a four-cylinder diesel.
At the SUV's first public drive near Barcelona, attended by just a handful of UK journos,  Heiko Strietzel, manager of the team behind the new diesel engine, highlighted simply that a bigger engine can produce the torque necessary to cover most of the propulsive needs of the CX-60 at lower loads, revs and combustion temperatures than an equivalent four-cylinder.
Without getting too technical, the new unit has innovative piston and fuel-injection technology which works wonders under the bonnet. That combination, according to Strietzel, ensures "that the 3.3-litre six-cylinder diesel engine is right-sized for the CX-60".
In the 3.3 e-SkyActiv D 200 RWD, CO2 emissions are 128-130g/km. Official fuel consumption is 56.5mpg. Over a mixed road test route, involving narrow A-roads, city centre driving and motorways, without significantly trying I managed more than 60mpg. That's pretty astonishing. Factor in its 12.7-gallon fuel tank, and you're looking at a possible real world range of 760 miles. Eat you heart out EV owners.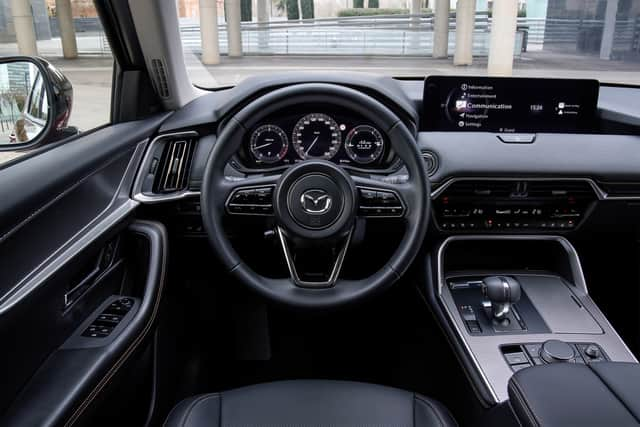 The engine will be available in two modes of tune. First up is a 197bhp/332lb ft version delivering power to the rear wheels. This was the only model available at the European first drive of the diesel. The big seller will be the 251bhp version offering 406lb ft of torque and all-wheel-drive. Mazda says it will return 53.3mpg and emit 137g/km CO2. Both are paired to an eight-speed automatic gearbox.
As for performance, the smaller 197bhp can cover the 0-62mph sprint in 8.2 seconds and carry on to a max of 132mph. We'll have the 4WD 251bhp figures when we drive the car in Scotland at the end of March.
Even with the less powerful diesel, the latest model feels more planted than the previously tested plug-in hybrid model, and has more than sufficient pace to deal with day-to-day driving. It remains a refined ride, with the suspension capable of coping with the harshest roads of the interior of Spain. Like the PHEV CX-60, the diesel handles well for a large SUV, but there's no getting away from the fact it certainly feels its size when driving on narrow roads. But remember, it is big, going head-to-head with the likes of the Audi Q5 and Volvo XC60 and Genesis GV70.
Visually, there's very little to separate the diesel from the PHEV. It's a still a very smart, stylish SUV with the brand's trademark front end, where the headlights run into the housing around the grille - chrome or gloss black depending on spec. And down the sides of the CX-60 there's still a number of dazzlingly sculpted angles.
Look carefully and you'll spot the subtle Inline 6 badges on the front wings, as well as a small e-Skyactiv D logo on the rear boot lid. The word diesel is noticeable by its complete absence.
Inside, the cabin remains one of Mazda's best … and that's from a manufacturer which has always set high benchmarks in interior styling and quality. The large central display is controlled by a rotary dial in the middle, which is certainly far less distracting and easier to use than a touchscreen. The overall ergonomics are excellent.
As for bootspace, you can stash 570 litres of family detritus away with the rear seats in place.
This entry-level 197bhp is only available in the standard Exclusive-Line trim level and starts from £42,990. It still gets loads of goodies as standard, including a 12.3-inch multimedia display with wireless Apple CarPlay and Android Auto, heated front seats and an electric-closing tailgate.
The more powerful 251bhp version starts at £45,630 for the Homura trim. This brings a 12-speaker Bose sound system, ventilated front seats and gloss black styling. Step up to the £50,730, range-topping Takumi, and you get a panoramic sunroof and white Nappa leather seats. Worth mentioning, the cheapest CX-60 plug-in hybrid comes in at £45,420.
Many will applaud Mazda for not being sucked into going down the full-blown electrification route just yet. It's clear not everyone is ready for, nor wants, a hybrid or EV. For those of that mindset, and in the market for a large SUV, Mazda has delivered a combination which highlights the ongoing strengths of diesel allied to its ever-improving cleanliness.
It might not be trendy, but as we all — albeit to very variable degrees — feel the impact of the cost of living crisis, the arrival of a large, five-seat family SUV which delivers mightily impressive fuel efficiency, generous equipment levels and a super-comfy, tactile and ergonomic interior, has to be an attraction.
As the poor nationwide charging infrastructure continues to create obstacles to EV uptake and some early adopters, especially business customers, even return their EVs due to the problems, now might be the time to finally get over the diesel stigma and give this new generation a go.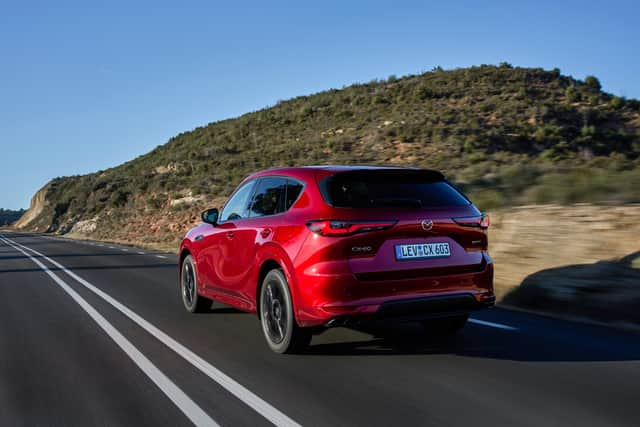 Mazda CX-60 3.3 e-SkyActiv D 200 RWD Exclusive-Line
Price: £42,800; Engine: 3.3-litre, six-cylinder, mild hybrid, diesel; Power: 197bhp; Torque: 332lb ft; Transmission: Eight-speedd automatic, rear-wheel drive; Top speed: 132mph; 0-62mph: 8.2 seconds; Economy: 56.5mpg; CO2 emissions: 128-130g/km