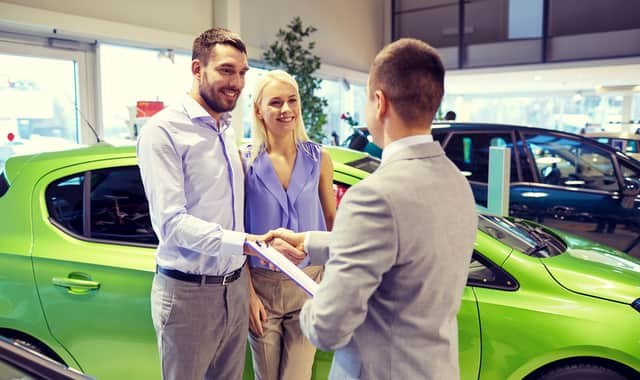 Manchester has been ranked as one of the best places in Britain to buy a used car in a study that looked at dealer reputation and value for money.
The city was rated sixth overall, with a number of nearby towns also making the top 10 list.
A combination of low average asking price and well-regarded dealers helped secure the city's place among the country's second-hand hot spots, according to the research by car finance group Moneybarn.
The study examined dealership reviews on the Car Dealer Reviews site, ranking each city by the number of "excellent" or "terrible" ratings. It then looked at the average price of second-hand examples of Britain's best selling car - the Ford Fiesta - to rank cities by value, and combined the two scores.
Manchester scored a credible 6.9 out of 10, just behind nearby Stockport and Bury.
In 71 per cent of reviews the city's drivers rated their dealership as excellent, with just 21 per cent leaving a terrible rating - among the lowest proportion in the country. The average used car price of £7,985 was more than £1,700 cheaper than the national average as well, leaving buyers in a strong position to bag a bargain from a reputable dealer.
In Stockport, where the average price was £8,535, the same proportion of drivers left excellent reviews for their chosen dealer but even fewer - 18 per cent - left a negative opinion. Reviews in Bury were less positive - a 70/20 per cent split - but even lower asking prices helped it rank in fourth place.
According to the study, Bolton is the country's undisputed used car capital, with an overall score of 7.58 out of 10. Three quarters of customers rated their dealer excellent and only 14 per cent left a terrible review. Buyers also paid an average of £8,635 - more than £1,000 lower than the national average.
Blackpool and Canterbury rounded out the top three with ratings of 7.51 and 7.48.
At the opposite end of the table, Cardiff came out as the worst place to buy a used car, scoring a lowly two out of 10. Thirty eight per cent of drivers rated their dealership experience as terrible and with an average price of £10,908 for a used Fiesta the city is more than £1,000 more expensive than the national average.
Just above it, Northampton scored a meagre 2.26, with 33 per cent of reviews rated as terrible and an even higher average price of £11,588. Birmingham's dealers performed even worse, with 41 per cent of reviews branding them terrible, however, a below average price of £8,342 kept it above the other two locations, leaving it with a ranking of 2.91.