2023 Mini Electric convertible launched with £52,500 price tag and fixed specification
Claimed to be world's first all-electric convertible, just 150 examples of 999-model run will come to the UK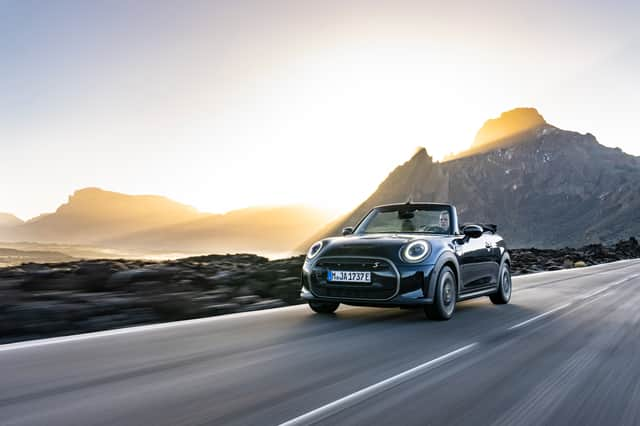 Mini has confirmed the launch of a strictly limited edition convertible version of its electric hatchback.
The Mini Electric has been a huge success since it went on sale three years ago, and one in five Minis sold in Europe is electric. Now, after teasing a prototype model last year, a cabriolet version of the attractive EV is to go into production.
The electric Mini Cooper SE Convertible has become a reality just eight months after the company displayed a drop-top prototype. Just 999 examples of the production model will be built, with 150 units earmarked for the UK. But — and it's a big but — it comes with a hefty price tag of £52,500.
Mini has set the car's specifications, and it will be available in a choice of just two colours - White Silver or Enigmatic Black. The electric cabrio will be available to order from April. As you would expect, it also comes with some special touches, including leather sports seats, with Nappa touches, bespoke 17-inch two-tone alloy wheels (made from recycled aluminium), and a 1/999 numbering plaque. There's also Bronze Resolute exterior detailing, black door mirror caps, ambient lighting, keyless go and the Mini Yours soft-top roof.
The comprehensive "standard" spec list also includes a heated Nappa leather steering wheel, a rear-view camera, active parking, driver assistance tech, active cruise control, sat-nav, a Harmon Kardon stereo, wireless phone charging, a head-up display and more piano-black trim.
In terms of its external dimensions, the limited-run cabrio is pretty much identical to its combustion sibling. That means it's 3863mm long and 1727mm tall. Bootspace is 160 litres. It also has an electrically powered, Union Jack-embossed cloth soft top. Mini claims it's the first fully convertible model to be sold with electric power,. Its only potential rival is the Fiat 500 Cabrio EV, but that's only fitted with a landaulet rear.
The production model mirrors its prototype stablemate in utilising the same 181bhp single-motor set-up as the standard Mini Electric. The 0-62mph time is a tad slower than the fixed-roof Mini Electric, taking 8.2 seconds to cover the sprint. That clearly is a result of the additional weight created by some extra strengthening for the Convertible. For the same reason, range is also down slightly to 124-miles.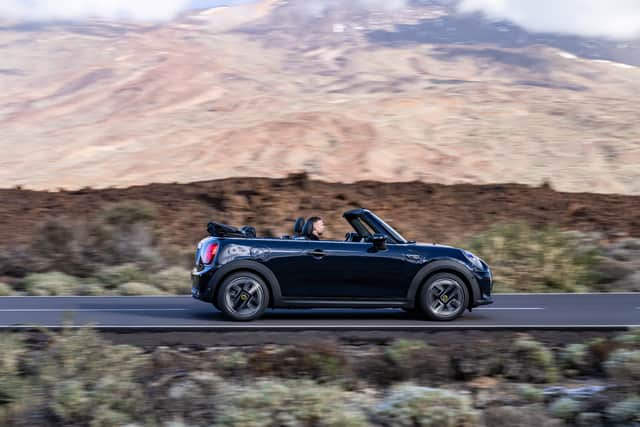 With the on-going success of the Mini EV in the UK and across Europe, it was only matter of time before a cabrio version was officially launched. Its introduction has been greeted by head of Mini, Stefanie Wurst, who said: "It is this success which has spurred us to implement the small series of the Mini Cooper SE Convertible within only a few months. I'm delighted that we can offer customers an extraordinary and exclusive open-air go-kart feeling."