8 of Manchester's best Caribbean food restaurants and takeaways including Pull Up & Jerk Junction
Here are some of our favourite Caribbean food spots in Greater Manchester.
Watch more of our videos on Shots!
and live on Freeview channel 276
Visit Shots! now
Now that Easter is out of the way and spring is in full swing, it's almost time to ditch the winter comfort foods for something a bit more summery. If you're looking for a summer alternative to the hearty Sunday roast – Caribbean food has the answer.
Caribbean food is an amalgamation of cuisines from all around the world – West Africa, Indian, South America and Europe – brought about by colonialism and the mass movement of people to the Caribbean islands over centuries. For example, rice and peas originated in Ghana, roti came from India and jerk cooking can be traced back to the Taíno, the Caribbean's indigenous people.
The food's popularity grew in the UK along with the country's West Indian community, particularly with the arrival of the Windrush generation in the fifties and sixties. Today Manchester has one of the largest West Indian communities outside of London and Birmingham.
Curried goat, rice and peas, plantain, ackee and saltfish – Manchester has got it all. Here are some of our favourite spots.
"Pull it up" is a phrase used when the song you're listening to is so good you need to start again from the beginning. Therefore, Pull-Up is a fitting name for this city centre Caribbean restaurant, as once you've tried it you will want to go back.
The menu includes jerk chicken (£9.95), curried goat, ackee and saltfish and escovitch. There are also jerk halloumi and curried veg for the vegan and vegetarians, and a selection of different gravies, included chicken pan gravy and spicy pimento jerk sauce. If you can't decide on just one dish, you can get a combo meal, which comes in a variety of options, the largest of which is the Hench Box (£16.55). On Sundays, they serve up their famous Reggae Roasts, a Jamaican twist on the British classic.
There is always a queue outside Jerk Junction, which you can find on Manchester Road in Chorlton. They have a simple menu of Caribbean staples – jerk chicken, curried goat, peppered steak, fried chicken – which you can get as a portion on its own (£4-6) or as a meal with rice and peas (all £9). There are also specials like oxtail, jerk salmon and jerk sea bass.
Word has started to get out about this hidden gem takeaway in Whalley Range. It has been a local institution for a number of years, but its reputation has started spreading since it became available on the delivery apps and had a refurb.
Again, Chicken Run offers everything you would expect to see on a Caribbean takeaway menu, but what they are really famous for is their chicken splits (£6.60). For the uninitiated, this is a fried dumpling, split in half with chopped up fried chicken and salad cream inside. Their main meals range from £7.70 for curried goat and £12.10 for jerk chicken, which is cooked on their outdoor cooker. You can also get chicken buckets to share for £17.85 or £37.15, depending on size. Whatever you order, make sure to get an extra pot of their signature gravy.
Kool Runnings have a shop in Longsight and a van that you can normally find parked on Chorlton Road, in between Hulme and Moss Side. If you can't find it, then use your nose because the smells that come from here are mouth-watering. All their mains – which includes jerk chicken, steak, fried chicken, curried goat, lamb oxtail, fried fish, escovitch and saltfish and ackee – are £9.50 and you can add an extra meat for £3. They also have an extensive sides menu, which includes saltfish fritters, beef patties and mac and cheese.
Tortuga opened on Craven Street in Droylsden in 2020 and has quickly become one of the most popular Caribbean restaurants in East Manchester. They have great lunchtime deals at £12.95 for two courses and three for £14.95, and you can get a whole jerk chicken for just £13.45. On weekends, they also do bottomless brunch for £36.99 per person.
As well as Jamaican staples like peppered steak, curried goat and jerk, they also offer burgers, wraps and pastas that incorporate Jamaican flavours. Sides include rice and peas, plantain and fried dumplings. This is a sit-in restaurant that also offers takeaway.
Mama Flo's in Stockport is another small shop with a big reputation. It even attracts celebrity clientele, including footballers and musicians. All their mains – including jerk chicken, peppered steak and brown stew –are £7. Sides include patties, plantain and jerk or bbq wings.
This Afro-Caribbean street food stall at Piccadilly Gardens is definitely worth checking out next time you're passing through the city centre. You can choose between the jerk chicken box, curry goat box or the vegan curry box, which all come with either rice and peas or jollof rice, a popular dish in West African countries. Prices range between £5-7, but for £8.50 you can opt for a fusion box that includes both rices. It's also worth noting that the sides menu includes six different kinds of patties –  lamb, beef, vegetable, chicken, jerk chicken, saltfish – if you just want a quick bite.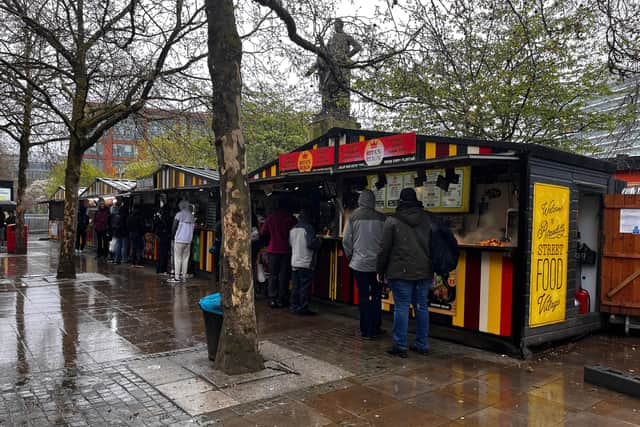 What's Your Flava is a Levenshulme-based takeaway that has a menu so extensive, it's hard to know where to start. As well as all the classics, they also offer wraps, splits and burgers with a variety of sauces including mango and pineapple, and jerk plum. There are plenty of vegan options too as all their meat options are available as jackfruit instead. Mains are around £10-11, wraps and splits are £6 and patties are £3.