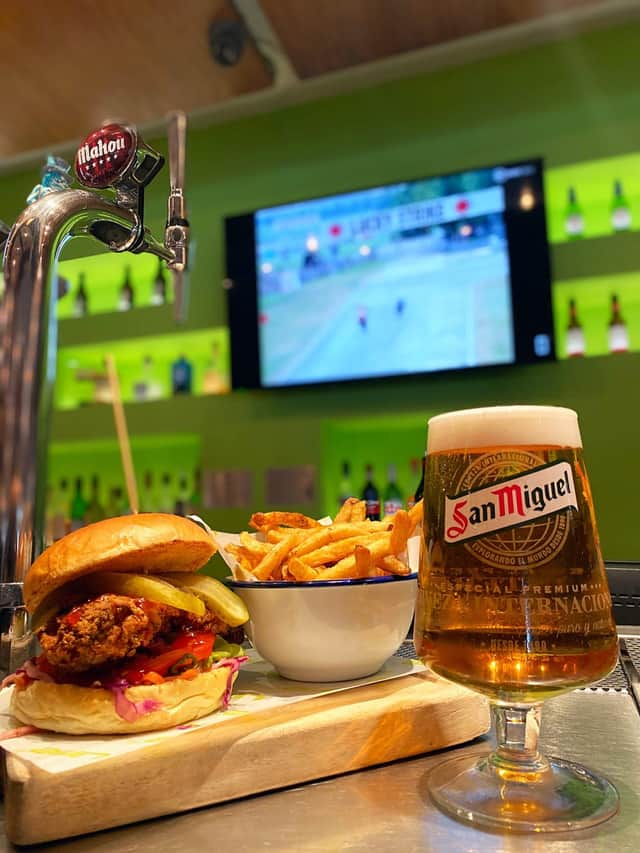 Credit: Lime Bar.
There's certainly no shortage of pubs and bars to watch football in Manchester and we've rounded up 11 of our favourites...
The Bierkeller - Located in the iconic Manchester Printworks, this bar is a great spot for watching the game. It has a large projector screen and can show up to three sports at a time. You can also reserve a table in advance with numerous packages available if you wish to take advantage of some food and drink offers.
The Bishop Blaize - Every Old Trafford regular knows this spot, with it located on Chester Road, just a stone's throw from United's stadium. The bar is adorned with Red Devils merchandise and memorabilia, so it's an ideal place to soak up the atmosphere ahead of the game. With the Wetherspoon's table order app you won't even need to get up off your seat to order a drink.
Inside Bishop Blaize. Credit: Bishop Blaize.
Bradford Inn - If you're en route to the Etihad Stadium, why not call in and have a pint and a game of pool? This is our favourite spot around City's stadium and it's got a huge selection of local beers and lagers available. There's also an outdoor beer garden if the weather holds up - although maybe it's best to pack an umbrella just in case.
The Brotherhood of Pursuits and Pastimes -With St Peter's Square just a minute away, this is an excellent location if you're getting the tram into town. One of our more stylish and spacious selections, 'Brotherhood' as it's typically called, offers great food and their brunch menu could be a great way to get things underway this Saturday.
The Botherhood. Credit: JPI Media.
The Director's Box - Just around the corner from Brotherhood, there's no worries about craning to see the action in The Director's Box, with a plethora of screens dotted around the bar. Their mobile app means it also couldn't be easier to order and pay for food while taking in the game. There's plenty of offers available as well, such as 2-for-1 cocktails at the moment.
Lime Bar -The only bar on our list located around Media City. Open from 11am until late, there's no concern about missing the big match. And with just a 15-minute walk to Old Trafford this could be a great shout for those looking to take in the stadium atmosphere on Saturday before shooting off to the pub.
Limebar at Media City. Credit: Lime Bar.
Matchstick Man - Another great spot if you're en route to Old Trafford, this pub at Capital Quay in Salford offers great prices on beers and other drinks. It also opens at 8am if you're heading to the United game on Saturday. They boast a highly regarded outdoor area and is based just beside a tram stop.
O'Neill's - Of course, there was always going to be an Irish bar selected by our writer from Belfast. Literally facing The Bierkeller in the Printworks, O'Neill's is great for watching the game and hanging around for a few hours afterwards. You can also reserve a private booth, but be quick as they're often snapped up at this popular location.
O'Neill's in the Printworks. Credit: JPI Media.
Shack Bar & Grill - Fancy a game of beer pong or darts after the match? Then this is the place for you. Our first entry from the Northern Quarter offers some amazing food - everything from dirty fries and burgers to tacos. Pool tables are also available and you can book a private booth with a personal TV when watching the match.
Beer taps at Shack Bar and Grill. Credit: Shack Bar and Grill
Sir Ralph Abercromby - Located on Bootle Street, just off Deansgate, a real Mancunian knows about this hidden gem. With outside screens this really is a spot for a sunny afternoon, and if not, there's plenty of cover for when the heavens inevitably open. It might lack the hustle and bustle of some of our other selections, but the atmosphere is just as pulsating for the big match, and there's no shortage of beer selections either.
Tib Street Tavern. Credit: JPI Media
Tib Street Tavern - Our final bar is one of the most popular for watching sports in Manchester, and based in the Northern Quarter, there's always plenty something on. The bar has a fantastic food selection and is a popular hangout spot for football fans and those just on a night out. But it's the former we're concerned with, and every matchday, it's packed with supporters.