Niche fragrances and perfumes at Manchester store
There is a unique fragrance store in Manchester which opens up a world of scents and perfumes – and is where East truly meets West.
To enter Scent Salim is to enter another world – a delight for the olfactory senses. And it's a chance to purchase a scent you may never have smelled before – or to have your own bespoke fragrance made.
The company, started a decade ago by a regular northern lad, is now a multi-million pound global enterprise.
Ilyas Salim – the man behind Scent Salim – went to his local high school in nearby Leeds. He has built the business over a decade and is one of a very few UK fragrance houses in the UK which sources its raw ingredients directly.
The company, which offers traditional Arabian Oud products with a French twist, now has seven shops, a manufacturing and wholesale side and an online shop selling around the world.
"We were one of the pioneers for bringing in these niche products into the Western market," he said.
Clients who shop for popular fragrances in a range of options – from spray-on scents to car fresheners, candles and oils – range from locals who return again and again for their favourites to VIPs and discerning clients who require a bespoke fragrance to be created.
Ilyas himself became interested in Oud scents – a traditional oil – whilst at a private school and build up a huge collection in his school locker.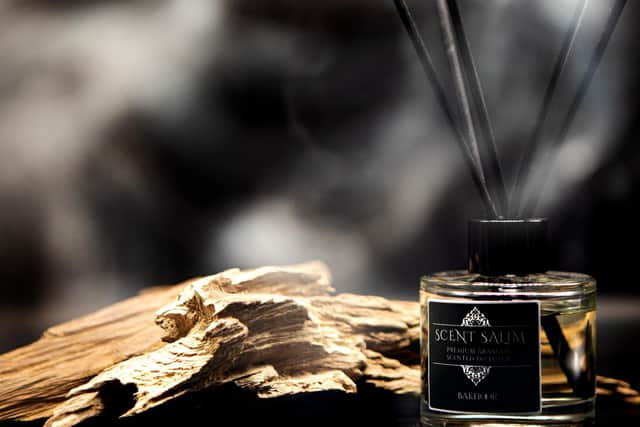 After attending several universities he was working full-time for the NHS when he set up and built up his business.
He now has an outlet in Manchester, at Cheetamhill Shopping Centre, Bury Old Park Road, Manchester, as well as across the north in Leeds, Batley, Bradford and Harrogate, in addition to the wholesale and distribution side and an online shop.
Ilyas has also served as a mentor to many other individuals setting up in business selling perfumes and Ouds across the world – both in the UK and in Uganda, Gambia, Germany and Holland.
"I believe that competition is always healthy," he explains. "Success is written for you and helping others to improve and find success is so important to me." He says providing quality products and a quality service is at the heart of what he does, and it has helped grow the business into the success it is today – with plans to expand and shops in London and Dubai on the horizon.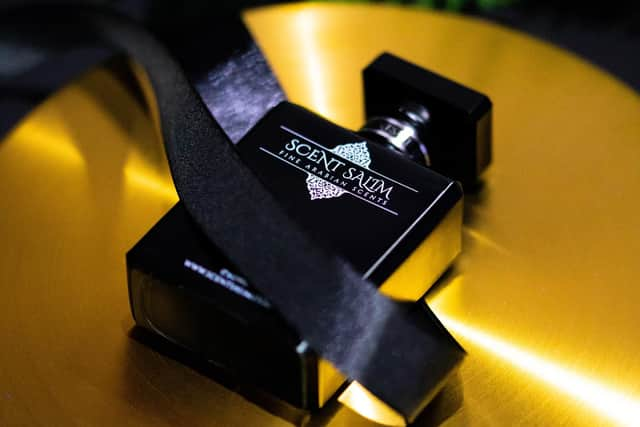 Scent Salim, and the Leeds store in particular, is one of the only shops in the UK to offer an array of niche fragrances, Arabian perfumes and Oud sprays – customers will travel from London or fly in from abroad for a consultation to have a bespoke scent created, says Ilyas.
This is the home of over 1,000 scents – Ilyas says they can recreate any perfume for a client. The products are made from natural and oils and sourced from all over Asia and the Middle East.
It is this concentration on genuine, quality products, from the original source that make the scents so special.
"We concentrate on the quality and that's why we don't want to grow too fast," he explained.
Oud is the generic Arabic term for incense, or resinous wood taken from the agarwood tree. The agarwood trees in question are located in specific areas in the world – Malaysia, India, Cambodia, Indonesia and Brunei. The wood in these trees is of tremendous value, as the resin within them is distilled to create pure Oud scents.
Oud itself has gained popularity among celebrities, Royals and artisans worldwide. It offers a depth of fragrance, which is mulit-layerd and, Ilyas explains, lasts longer than a regular "French" style perfume.
But modern methods and a bit of a French/Asian fusion makes these fragrances so accessible and flexible. They are produced in a range of options from room fragrances to fragrant woods for burning.
There are many ready-made scents to choose from – as sprays or candles or room fragrances for example – and for the wholesale trade the car fresheners and beard oils are the most popular items.
Scent Salim is proud to boast a fabulous collection of Arabian, imperial and pure Oud sprays. These products are made from all different types of materials and natural oils and are sourced from all over Asia and the Middle East. To help us stand out from the competition and continue to create the best fragrances and perfumes we are constantly experimenting with our scents to find any new discoveries.
Scent Salim is always at the forefront of giving back to local causes. They have set up many foodbanks around the UK and also orphanages abroad. They never say know to any charitable cause, big or small.
Unique offer for Manchester World readers
To find your local shop visit https://www.scentsalim.com/ and if you buy online you can get an exclusive 20% off your order by using the code vipoud.