Here's your chance to learn top tips from a business expert who makes money from property and says you can too
This article is paid for, sponsored content and does not reflect the views of ManchesterWorld and National World. People should always seek independent advice in matters of finance and investments.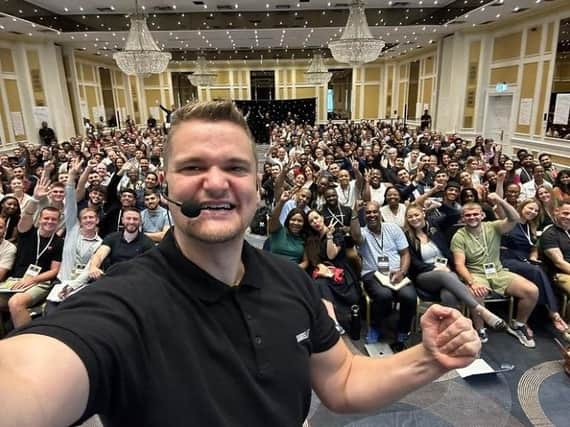 Stamina, determination and being willing to sleep on the floor are just some of the attributes that have helped a young businesswoman launch a career in the property sector.
Luckily not everyone entering the world of deals and investments is expected to give up their bed but for 23-year-old Adriana Cafassoit certainly helped prepare her for going the extra mile to follow her dreams.
The hard work began for the Newcastle-based student when she decided against her initial career plan to be a lawyer soon after graduating from university. Deciding that it just wasn't for her, she set up a small social media business and combined it with a part-time job in marketing.
Millionaire property guru
Both enterprises saw her through the pandemic lockdowns but they were never a long-term option. Instead she decided to explore the property industry and found a one-day crash course being hosted by millionaire guru Samuel Leeds for the price of just £1.
Adriana signed up for the event and later attended a masterclass to learn about property deal selling. After watching Samuel sell deals live on stage, the budding entrepreneur was well and truly bitten by the bug and signed up for a year of training with his Property Investors Academy.
She then moved back home to live with her parents and set up an office in one of the rooms but says generating business was a struggle at first without having money to invest.
Joint venture paves the way
"I was working every day and doing part-time work at the restaurant, earning a couple of hundred pounds here and there but I was in my overdraft," she explains.
It was only after attending an academy dinner that Adriana chatted with two other students who suggested a joint venture in Liverpool.
That conversation set the ball rolling and gave her the kick-start she'd been waiting for. "I borrowed the money to do my side of it and then paid it back. So that first deal was no money in of my own," she explains.
"That wouldn't have happened had we not been at that dinner. One of my biggest lessons has been get yourself in the room and speak to everybody."
But the real turning point for Adriana came when she competed in The Eviction 2022, an Apprentice-style contest run by the academy requiring students to complete various tasks to impress the boss and prove they're up to the job.
Adriana reached the semi-final and clearly remembers working until the early hours of the morning and sleeping on the floor during the competition.
Very soon afterwards, she negotiated her first rent-to-rent deal – which involves renting a property from a landlord and then letting it at higher rate. The approach is often used to provide short-term, room by room accommodation.
Adriana refurbished the property and did the painting and decorating herself, staying overnight until it was finished.
"I was sleeping on a mattress on the floor for three weeks," she says. "I didn't have any hot water and I was grafting, but I was documenting it.
"People were seeing 'she's serious about what she's doing. Look what she's prepared to do to get her deal over the line'. That built up my network and credibility," she adds.
These days Adriana says her biggest source of income comes from deal selling for which she charges a finder's fee. The rest comes from renting out serviced accommodation.
Staying in close contact with the academy network for support and ideas from mentors and fellow students has been key to her progress she says. And Adriana firmly believes that anyone can succeed in the business as long as they don't give up.
Samuel says Adriana has already made impressive progress and he expects her to go from strength to strength.
"The next thing she will learn is how to scale her business. Now's the time to do that and to bring on staff," he advises.
Anyone keen to find out more about investing in property can attend Samuel's rent-to-rent course which will be held in Manchester on Friday, November 24.
It starts at 9am at the Manchester Suite, Old Trafford Stadium, Stretford, M16 0RA.
This article is paid for, sponsored content and does not reflect the views of ManchesterWorld and National World. People should always seek independent advice in matters of finance and investments.