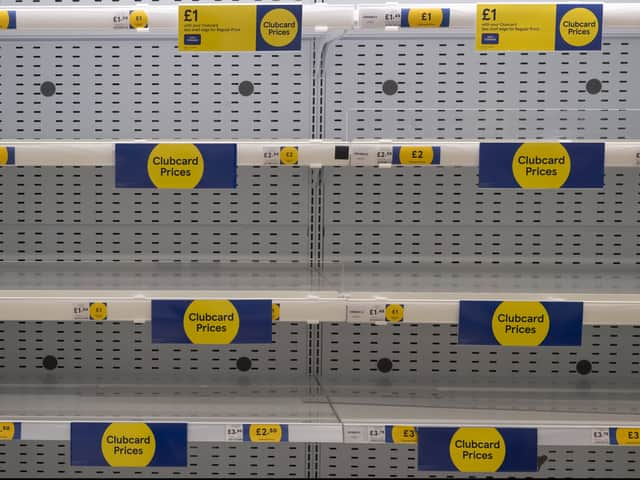 Empty supermarket shelves are seen in a supermarket on July 23, 2021 in London (Photo by Dan Kitwood/Getty Images)
Photos of empty supermarket shelves have been trending on social media over the last few weeks.
A shortage of HGV drivers and the so-called "pingdemic" forcing food supply workers to self-isolate have been pointed at as possible causes in online debates.
While the situation in Manchester may not be as bad as in some other parts of the country, a prominent industry group believes there is little reason for complacency.
Are shelves in Manchester still getting stocked?
The Road Haulage Association (RHA) says Manchester has, by and large, avoided some of the post-apocalyptic scenes posted to social media from supermarkets running desperately short.
However, it is keen to stress that thinking of the problem as having geographical hotspots is not particularly helpful, as individual businesses almost anywhere in the UK could suddenly experience issues.
It also assured customers that the situation as a whole was worrying and being carefully monitored.
Chris Ashley, the RHA's head of policy, environment and regulation, said: "We are keeping a watching brief. We are aware of increasing anecdotal reports of shortages on supermarket shelves, though not necessarily within Manchester.
The road haulage industry is looking at recruiting more HGV drivers (Photo by Dan Kitwood/Getty Images)
"The risks of shortages materialising are quite high. It is a real concern and we are engaged with the Government on solving this.
"I don't think there are particular hotspots, it tends to be particular businesses in particular areas who are dependent on where they sit in the list for deliveries.
"If there is one supermarket with empty shelves it doesn't necessarily mean there's a crisis there, it's just that one business is struggling to get deliveries."
What are the problems and what is the industry doing about them?
Mr Ashley says there are issues facing the haulage industry which require a "multi-pronged approach" to tackling them.
"The industry can help the situation by recruiting more drivers," he said.
Chris Ashley from the Road Haulage Association
"There are some issues with bureaucracy too. The testing for new drivers has been clogged up because of the Covid pandemic and we are working with the Government to free up capacity so we can get the supply of drivers out there.
"We are aware of some businesses looking to train their own existing staff to become drivers."
Why is there a need to train more drivers?
Discussion online has extensively focused on issues such as the number of EU nationals involved in HGV driving and whether Brexit has deterred them from remaining in the UK or not.
But Mr Ashley said there are also other reasons why the industry needs to go on a recruitment drive.
He said: "As a sector we're not unique in having problems attracting new blood.
"Agriculture, for example, has similar issues.
"The average age of the typical HGV driver is now in the 50s. Drivers are coming up to retirement and it's about how we recruit to replace them.
"It's a complex issue and there is no one silver bullet."
What does the Government say?
The Government has largely blamed shelves running low on the "pingdemic" involving the Covid app, which has resulted in large numbers of staff being off work isolating.
Emergency measures were introduced in July to exempt some staff in the food supply chain from self-isolating through an increased testing regime.
Some agriculture and food producers have been begging ministers to change post-Brexit rules to attract more seasonal labour from abroad.
In response the Government has pointed to tweaks to the system it has made as well as talking about more automation in the sector and making it a more attractive option to UK workers.